Factors That Determine the Fire Damage Restoration Process and Timeline
9/23/2021 (Permalink)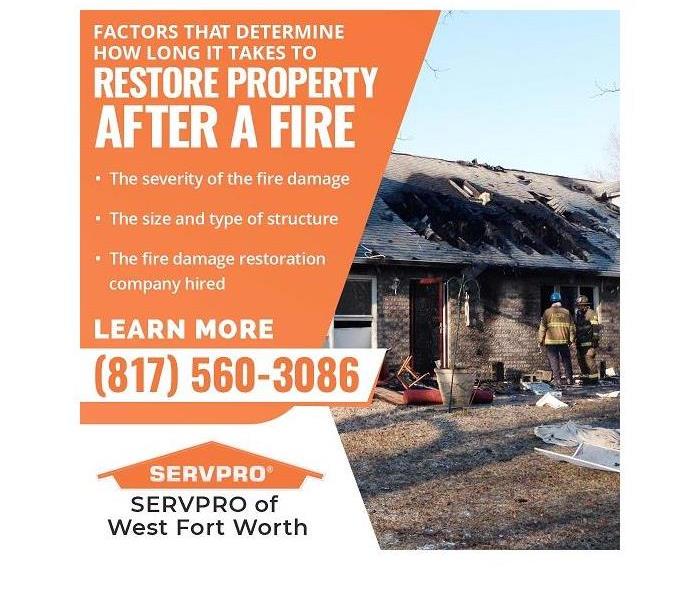 Blog Summary: The experts at SERVPRO of West Fort Worth go over some factors that affect the fire damage restoration process and how long it will take to reconstruct a fire-damaged property.
While it's understandable to want to return to the property and begin rebuilding as soon as possible after a house fire, how long rebuilding a fire-damaged property takes depends on factors such as the severity of fire damage and the size of the building.
The experts at SERVPRO of West Fort Worth, a leading fire damage restoration company, have some guidance for homeowners wondering how long the property reconstruction process takes.
Factors That Determine How Long It Takes to Restore Property After a Fire
#1: The severity of the fire damage
The extent of damage is a primary factor in how long it takes to rebuild a home after a fire. For example, if a small fire breaks out in one room, and the damage is contained there, repairs can be done in one or two days. With a much larger fire that affects the entire structure, on the other hand, rebuilding can take several weeks or even months.
During a house fire, flames, smoke, soot, and even the water used to extinguish the fire all create different types of damage to a variety of surfaces.
As a result, fire restoration companies have to employ a multi-faceted approach, ranging from damage clean-up to soot removal and water clean-up. That may require services from contractors, engineers, and even mold removal or mold remediation experts in addition to fire and smoke removal experts. Some restoration companies, such as SERVPRO, offer all of the above services. Working with a single contractor typically speeds up the process.
#2: The size and type of structure
Similar to the extent of damage, the size of the building that needs to be restored and its layout may affect the restoration timeline. Naturally, a small single-story home can be restored faster than a massive multi-floor office building. The number of floors involved and where the fire was might be relevant even if the fire is small, as moving equipment across floors can present its own challenges.
#3: The fire damage restoration company hired
Restoring fire-damaged properties requires special skills, training, and tools, and no two companies are equal in this respect. An established company with a well-trained crew and all the resources they need on hand will be able to complete the restoration process faster than a new company with an inexperienced team. It pays to be picky when looking into fire damage restoration professionals, water restoration companies, architects, contractors, and other professionals to work on a fire-damaged property.
About SERVPRO of West Fort Worth
SERVPRO of West Fort Worth is a property damage restoration company serving residential and commercial clients in Fort Worth, TX, and the surrounding communities. Founded in 1967, the company is part of a national network of over 1,700 franchises strategically located throughout the country.
Their staff is highly trained in water damage restoration, fire and smoke damage restoration, mold removal, biohazard clean-up, and more. They also offer residential and commercial cleaning services.
Contact SERVPRO of West Fort Worth at (817) 560-3086 or follow them on Twitter to learn more about the fire damage restoration process in Benbrook, TX, and surrounding areas.
Contact Information:
SERVPRO of West Fort Worth
8008 Camp Bowie W Blvd Ste #106
Fort Worth, TX 76116
office@SERVPROheb.com