SERVPRO's Highly Trained Technicians Are Here to Guide You Through Winter
11/22/2021 (Permalink)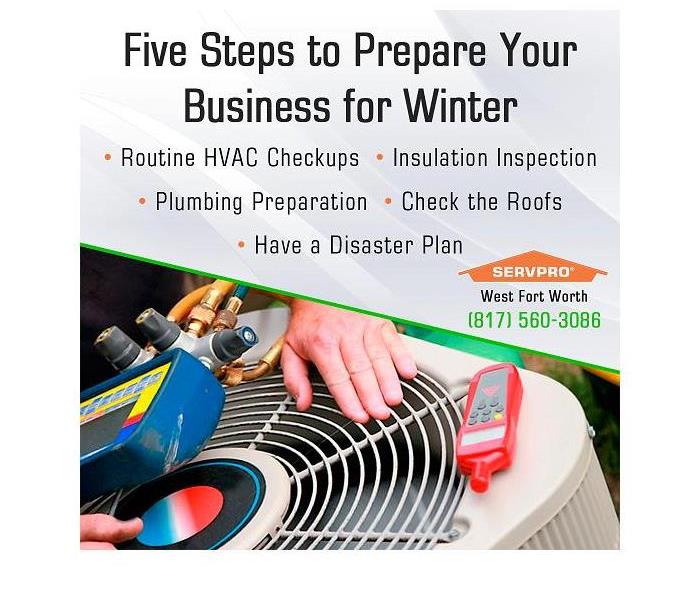 Blog Summary: When a Texas storm hits, the cleaning and restoration costs can stack up quickly. Prepare your business to withstand winter storms with these tips from the commercial damage restoration technicians at SERVPRO.
Since 1967, SERVPRO has worked diligently to set the industry standard for commercial damage restoration and cleaning. Unexpected fire or water damage often puts entire families' lives on pause as they scramble to pick up the pieces. With a highly trained, well-certified staff ready to go at a moment's notice, SERVPRO prides itself on minimizing fire or water damage.
Part of what has established SERVPRO as one of the industry-leading fire and water restoration companies is their dedication to making any situation "Like it never even happened." To make sure that the West Fort Worth community shines as an example of that mission statement, SERVPRO wants to share five tips with you to help get you through the winter months.
Five Steps to Prepare Your Business for Winter
1) Routine HVAC Checkups
While Texas is infamous for its hot temperatures, those who live there know that their HVAC systems work overtime in the winter months as well. Nobody wants to go a day without heat in the coldest months, which is why it is recommended to have a professional do a routine walkthrough.
From checking the air filters to inspecting the hoses for leaks, a checkup should ensure that your HVAC system is running as smoothly as possible before winter sets in.
2) Insulation Inspection
Studies have shown that up to 25% of heat loss during the winter can be directly related to poor insulation. Given how much insulation methods have improved, having dependable foam or equally efficient insulation is affordable, easily installed, and can help save a fortune in the long run.
3) Plumbing Preparation
The main calls that SERVPRO gets during the winter have to do with emergency water cleanup caused by frozen pipes that have burst. To properly ensure that this does not happen, always test your freeze-protection devices and alarms before it is too late.
The average price for water cleanup caused by burst frozen pipes is nearly $11,000. Following these simple steps, as well as keeping the internal building temperature above 55 degrees Fahrenheit, can help prevent having to suffer this extra winter cost of commercial flood restoration services.
4) Check the Roofs
Acting as the first line of defense, a building's roof must be checked before the winter. Holes, cracks, and loose shingles can all play an instrumental role in letting in melted snow.
Be extra aware of ice dams forming on the roof. As snow piles up, melts, and refreezes on the roof or in the gutters, draining can become extra difficult. Water not draining properly is a recipe for leaks and damages, both of which can allow cold air to leak back into the building.
5) Have a Disaster Plan
Regardless of how careful you are, eventually, disaster will strike. Having a plan in place is key to making sure that one disaster does not multiply. Prepare your business and staff for emergencies by following these steps:
Have a team such as SERVPRO on standby for commercial damage restoration
Make sure everyone in the building knows the protocol
Make knowledge of escape routes readily available
Why Choose SERVPRO?
Both commercially and residentially, SERVPRO is regularly trusted for not only fire and water damage cleanup but also mold remediation and commercial cleaning services.
SERVPRO strives to be that trusted resource in every "disaster plan" in Texas for water damage restoration, mold removal, and fire restoration. Reach out to SERVPRO's Fort Worth division at (817) 560-3086 today so they can help you feel "Like it never even happened."
Not sure whether you are covered for commercial water damage restoration in the Fort Worth area? No worries! SERVPRO of West Fort Worth has you covered serving Azle, TX, Benbrook, Pelican Bay and surrounding areas.
Call (817) 560-3086 or visit their office at 8008 Camp Bowie W Blvd, Ste #106, Fort Worth, TX, 76116, for commercial damage restoration today.