Benefits of commercial duct cleaning according to SERVPRO
6/17/2021 (Permalink)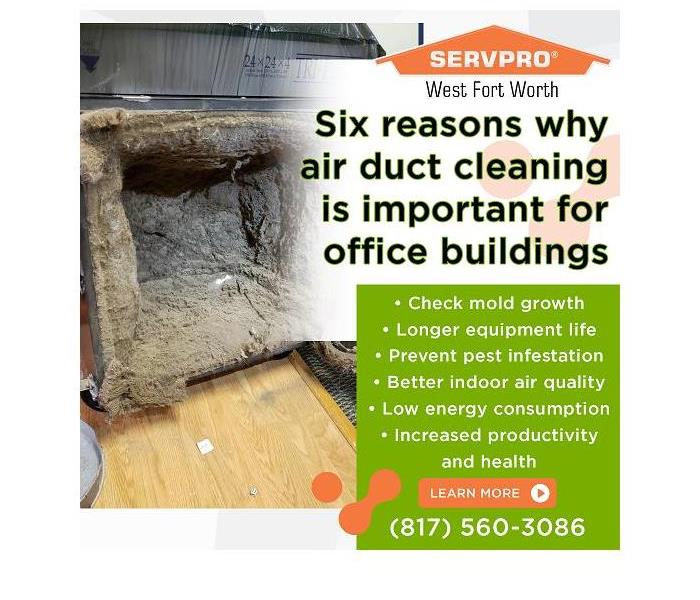 Blog summary: This SERVPRO article discusses six reasons why property owners should get the ducts cleaned in their offices by a professional team.
Six reasons why air duct cleaning is important for office buildings
Many factors contribute to the indoor air quality of a commercial building. One factor that is often overlooked is air duct cleaning. This SERVPRO article discusses six reasons why commercial buildings need to have their air ducts cleaned regularly by an experienced commercial cleaning service.
Better indoor air quality
Indoor air in commercial buildings can be much more polluted than the outside air due to inadequate airflow. The indoor pollutants are dust, volatile organic compounds (VOCs) and molds, and microbes. Poor indoor air quality, inefficient air filtration, and duct leaks can result in dust entering the duct system. Breathing in these contaminants and dust can make the occupants sick and impact overall productivity. Therefore, it is imperative to clean commercial air ducts for healthy and clean air.
Check mold growth
High humidity in the building or water leaking into the ducts provides the perfect environment for mold to develop and circulate throughout the building. Mold may cause health effects and must be arrested.
Periodic duct inspection and cleaning ensure there are no unchecked mold growths and lingering odors that can impact the employees and business productivity.
Prevent pest infestation
It is reasonably common for mice, squirrels, bees, and other pests to gain access to the duct system and leave behind nesting material, hair, and dead insects. Unchecked and uncleaned, there could be an accumulation of these particles that can then be blown in and lead to possible health issues.
Low energy consumption
The regular removal of contaminants from the mechanical components of the air handlers and heating and air conditioning units results in a more efficient HVAC system. This efficiency enables easier maintenance of temperature, thereby reducing energy consumption and costs.
According to the Environmental Protection Agency, just one millimeter of dust and dirt build-up can reduce the efficiency of an HVAC system by 21%. A healthy and clean system means healthy energy bills.
Longer equipment life
An HVAC system that is clogged with dirt, allergens, dust, and other particles build-up will have a shorter lifespan. Debris in the ducts impairs airflow through the system, so the fan motor has to work harder to distribute the conditioned air to rooms. Clean ducts will allow air to flow freely and the motor to consume less energy. This will deposit less dust on the air conditioner's evaporator coil.
Regular cleaning of the ducts will ensure that the equipment is in a prime state and will last for years to come.
Increased productivity and health
With high-quality indoor air and efficient HVAC air filters, the ducts could stay clean for years. Clean ducts reduce the possibilities of any health effects on employees, which means lower absenteeism and healthcare costs.
A regular inspection can help avoid these issues and ensure a smoothly running organization and a fresh ambiance.
Why get professional duct cleaning?
A professional commercial cleaning services team would be able to access and clean all components of the system such as motor and fan housing; supply and return air ducts; diffusers and grilles; drain or drip pans; heat exchangers; cooling and heating coils; unit housing; and internal air ducts. Whereas, amateur hands can actually worsen the situation.
Commercial property owners must hire professionals, such as SERVPRO with advanced equipment and technology to thoroughly clean the ducts and ensure a healthy and clean indoor air quality and HVAC system.
Why SERVPRO?
# SERVPRO uses state-of-the-art equipment to bring the damaged property back to its original state. SERVPRO of West Fort Worth is always updating its fleet and equipment so clients in Fort Worth, Benbrook, Azle, or anywhere else can quickly access the services.
# With over 1,700 US and Canadian Franchise locations, SERVPRO is strategically positioned to respond faster to an emergency of any magnitude.
# The SERVPRO staff is highly trained in property damage restoration. They receive initial in-house training and constant skill up-gradation at the corporate training facility and also acquire regular IICRC-industry certification.
For commercial cleaning services, call SERVPRO of West Fort Worth today at (817) 560-3086 or e-mail at office@SERVPROheb.com