What Owners Need to Know About Fire Damage Restoration and Cleanup
4/27/2021 (Permalink)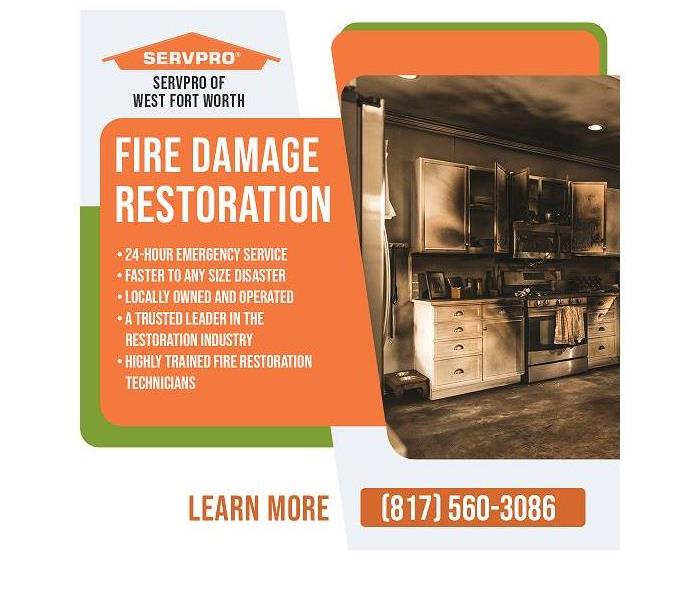 Blog Summary: The team at SERVPRO discusses the importance of fire damage restoration for disaster recovery services in Fort Worth, TX. Experts like SERVPRO will have homes and businesses looking like new after a professional restoration service, no matter the fire or water damage issues that arise.
The CDC reports many dangers after emergencies and flood cleanup, fire, and water restoration companies like SERVPRO are essential to a quick recovery. Following the correct procedure after a fire safeguards the building's occupants and its structural integrity. It also ensures a better chance that the insurance company will pay for restoration or rebuilding costs.
Five Do's and Don'ts of Fire Damage Restoration and Cleanup
The SERVPRO team has helped thousands of Fort Worth residents handle disaster and water cleanup operations with quick, effective results. Here are a few words of advice from their building restoration service experts:
#1 DO Take Time Off
Fire recovery is fraught with emotion, and even watching a stress-free commercial cleaning service restore the area can feel overwhelming at times. Many people bottle these feelings, but it is important to take time away from work and daily routines. Until things get back to normal, the aim is to provide calm and professional support and recovery service.
Experienced companies like SERVPRO understand how traumatic a disaster can be to a family or business owner. They reassure clients with top-notch services and a smooth approach to every detail of the operation. If that means conducting an air duct cleaning service or mold remediation at a time that's most convenient, that is what they do.
#2 DON'T Be Impatient
Fire and the resulting commercial water damage affect every aspect of the premises, and even the most reliable fire restoration companies can't fix everything in one day. It helps to have highly-trained restoration specialists, but all fire damage restoration services take some time to address the details. In many cases, fire damage restoration includes extensive work, like water removal, messy water damage, and tedious mold removal.
These processes take time, but neglecting them is not an option. A poor job in any of these areas will only lead to increased costs in the future. SERVPRO's fire damage restoration service will assist homeowners every step of the way, and there won't be a single spot missed in the process.
#3 DO Call The Insurance Company
The sooner the insurance company knows about the fire, the better. In many instances, the insurance company will refer residents to SERVPRO in Fort Worth, Texas. Their services prevent further damage and start the restoration process sooner.
Ask the insurance company:
The timetable for addressing water damage
How to secure the property
How to file a claim
Whether they will work with SERVPRO as a reliable fire damage restoration company
#4 DON'T Enter the House Without Permission
Fires leave plenty of toxic chemicals behind, and even a small fire can generate enough carbon monoxide to kill a person. Soot is a secondary issue, causing respiratory distress and blockages around the premises. Homeowners and commercial property owners should not enter the premises or try to retrieve any items without a professional disaster recovery technician on-site.
Fires also result in structural damage, which makes the property unsafe to occupy and unstable to visit or clean. Stay away from the area until the supporting fire restoration companies like SERVPRO indicate that it is safe to be there.
#5 DO Work with the Experts
A fire damage restoration service makes handling the aftermath of a fire far easier. Every SERVPRO team member understands the anxiety that business and homeowners face and will work to alleviate it. They also work closely with insurance companies to keeping the property owner calm and informed.

SERVPRO offers decades of experience navigating stressful, messy events with top-quality residential and commercial water damage and fire damage restoration in Benbrook and surrounding areas. Find out more about the SERVPRO fire damage restoration service on Instagram, or call (817) 560 3086, night or day. Alternatively, visit their offices in Fort Worth, TX, 76116.