Why SERVPRO of West Fort Worth is the Leading Property Damage Restoration Company?
9/14/2022 (Permalink)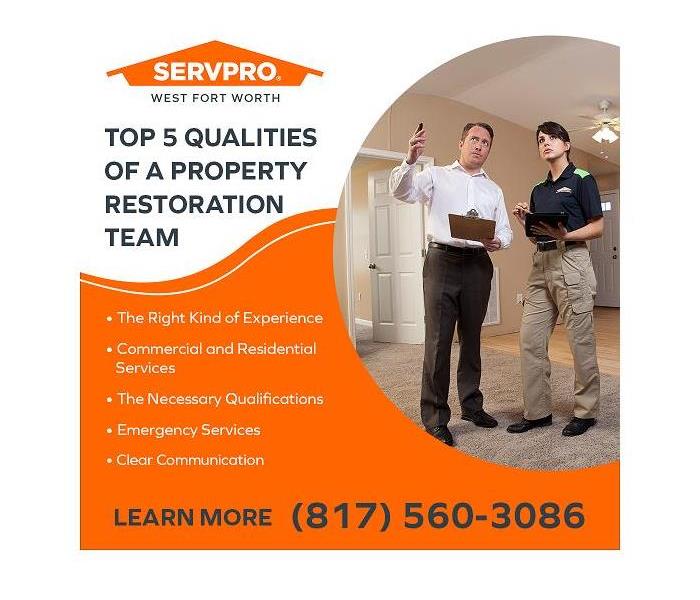 Blog Summary: SERVPRO of West Fort Worth looks at the many different qualities a property damage restoration company should have, including their experience, if their team has certifications, if they offer emergency services, and more.
Dealing with property damage to a home or commercial business can bring plenty of stress. That's why having a property damage restoration team on your side makes a huge difference. The right company can deal with issues like:
Water damage
Fire damage
Mold
Cleaning up biohazards, and more.
Unfortunately, disasters can strike anytime, so homeowners need a team that can spring into action immediately to resolve any disaster. We'll explore what sets SERVPRO® of West Fort Worth apart as the leading property damage restoration company in Fort Worth, TX.
Top 5 qualities of a property restoration team
When choosing the right property damage restoration team, property owners should look for the following qualities:
1. The right kind of experience
When researching restoration companies, choose a team with plenty of experience, including specializing in the relevant service. Since 1967, the SERVPRO team has helped Fort Worth, TX, residents. The family-owned and operated company proudly offers the following services:
Fire damage: Fire damage doesn't just stop once a team extinguishes flames. Odors, soot, and smoke can continue damaging a home. SERVPRO of West Fort Worth can completely restore a property following fire damage.
Water damage: Water damage comes in many forms. In particular, gray or black water causes severe issues besides initial damage to a home or possessions. SERVPRO of West Fort Worth can help restore homes and protect occupants' health following a leak or flood.
Storm damage: Texas experiences extreme weather events, including heavy flooding and hurricanes. These incidents require extra care from an experienced team.
Mold damage: One unfortunate side-effect of storm and water damage is mold growth. The right property damage restoration service can eliminate mold the moment it springs up or implement preventative measures.
2. ommercial and residential services
A commercial property may require extra restoration services based on size alone. The right company provides both residential and commercial restoration services, including water removal, water damage restoration, and mold remediation, to address all the damage and make it like it never happened.
3. The necessary qualifications
The right property damage restoration company also has the necessary qualifications. The SERVPRO of West Fort Worth team carries the following qualifications:
FSRT - Fire & Smoke Damage Restoration Technician
ASD - Applied Structural Drying Technician
AMRT - Applied Microbial Remediation Technician
WRT - Water Damage Restoration Technician
RRRP - Lead-Based Paint Activities and Renovation
CMT - Commercial Carpet Maintenance Technician
Besides showing they have the necessary qualifications to complete the job, the proper certifications mean the SERVPRO team remains compliant with local regulations. The right team can produce documentation regarding their certifications upon request.
4. Emergency services
Disasters don't wait until it's convenient, nor should a property restoration team. Therefore, hiring a team like SERVPRO that offers 24/7 emergency services is crucial.
5. Clear communication
Clear communication is essential at every step of the property damage restoration process. The experienced SERVPRO technicians explain the process precisely and answer any questions a business or homeowner has.
Property Damage Restoration Services From SERVPRO
SERVPRO of West Fort Worth provides free inspections from certified and trained technicians. For over 50 years, the experienced team has been providing expert services to businesses and homeowners needing them the most. Contact Team Shaw of SERVPRO of West Fort Worth at (817) 560-3086!