5 Space Heater Safety Tips
11/25/2020 (Permalink)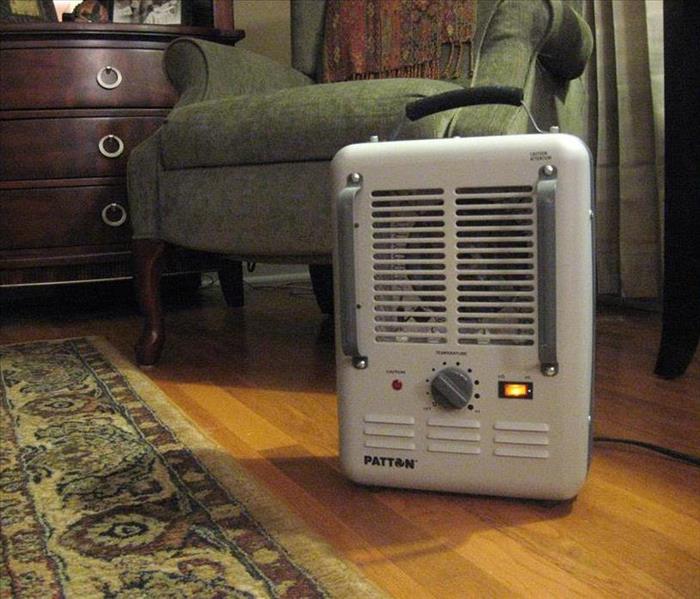 As the temperatures drop lower and cold weather rolls in to stay for awhile, you're probably breaking out the space heaters to warm up your home or business. While space heaters provide wonderful warmth during the colder months, they also can be safety hazards if they aren't properly set up and monitored to ensure they don't pose any risks to you or your home. A space heater fire is never on anyone's agenda, so we recommend following these 5 space heater safety tips to avoid any unwanted fires from occurring:
Carefully place your space heater at least 3 feet away from flammable objects. If any objects come in contact with the space heater's electric heating face or a hot surface, it poses a serious fire risk. As a general rule, never sit or drape anything over your space heater, don't set it near rugs, furniture, bedding, clothing, window treatments, or other flammable materials. Also, make sure that it's sitting on a level surface so that it doesn't accidentally fall or tip over.
Don't use extension cords. Plug your space heater directly into an outlet. There's a much higher chance of your space heater overheating or otherwise malfunctioning if it's plugged into an extension cord or an outlet strip. Minimize these dangers by plugging your space heater directly into an outlet that has the power capacity necessary to fire it up and keep it running.
Unplug it when you're not using it. This should go for almost all appliances, but it's especially relevant for your space heater. When you're not using your space heater, you should first turn it off and then you should unplug it. Having a space heater running while you don't want it to be running poses a fire hazard as well as a waste of energy.
Clean, inspect, and maintain your space heater. On a regular basis, you should clean your space heater and wipe it down to avoid dispersing dust and other allergens throughout your house. You should also carefully monitor your space heater to ensure that it's working as it's supposed to and nothing wonky is happening. If anything seems out of order, turn it off and unplug it right away until a professional can inspect it and you can safely run it again. Alternatively, you can just dispose of it and purchase a new space heater.
Don't run your space heater in the bathroom or a basement. Space heaters should never be run in places that are humid or wet because space heaters are not meant to be wet. Don't handle your space heater if your hands are wet or you just got out of the shower. The electricity from the space heater could run through the water and shock you. This is dangerous and should be avoided at all costs.
While we love our space heaters as much as the rest of you, it's important to run them safely when you have them operating. SERVPRO of West Fort Worth is here to help you with any fire damage, water damage, storm damage, or mold that comes your way this fall and winter season, and we're available 24/7 at (817) 560-3086. Give us a call today to discuss how we can help you fix any damage to your home or business.