4 Things to Look for When Hiring Commercial Restoration Contractors: A Guide to Commercial Services
2/15/2021 (Permalink)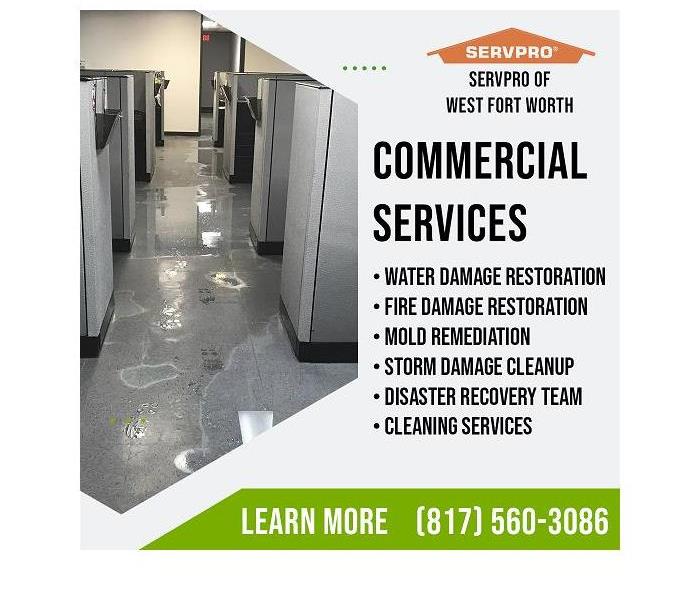 Blog Summary: The experts at SERVPRO of West Fort Worth lay out four things to look for when enlisting the help of a commercial restoration company to clean up fire and water damage.
SERVPRO first started restoring commercial buildings in 1967. For decades, the company has served as the first name to call when a property suffers fire or water damage. As the most trusted brand in the commercial services business, SERVPRO now provides professional restoration services in over 1,700 locations across the United States and Canada.
The restoration experts at SERVPRO know all too well how fire and water damage can cause chaos in your life, impeding the rational selection of a reputable commercial services company. That's why the friendly team at SERVPRO of West Fort Worth curated a list of things to look for when hiring commercial restoration contractors.
4 Things to Look for in a Commercial Restoration Contractor
#1: Credible Website
In the digital age, the first step in your path to finding reliable water and fire damage restoration services is to peruse company websites. The website should look professional, and you should be able to find plenty of information about the company, like reviews, certifications, a complete list of services, and more.
Seeing a full list of services is particularly helpful. Opting for a company that offers fire and water restoration-related services, like mold removal and air duct cleaning, is beneficial as you can cover all your bases with one contractor.
#2: Licensing
Commercial building owners who hire unlicensed fire and water restoration companies risk doing additional damage to their properties. It's vital to hire certified experts in water cleanup and mold removal to avoid lingering problems in the future.
Look for a company that only hires professionals with the following certifications, among others:
Applied Microbial Remediation Technician (AMRT)
Applied Structural Drying Technician (ASD)
Water Damage Restoration Technician (WDT)
#3: References
All high-quality water and fire restoration companies can provide good references upon request. Some businesses that provide commercial cleaning services even keep detailed portfolios of past projects. Don't be afraid to ask for references when approaching a company that offers commercial services.
Here are some examples of questions you can ask water, fire, and mold remediation companies:
Can you provide work samples?
How is your company's safety record?
Is your company fully insured?
Treat these questions as a screening process to narrow down your pool of options. Once you have a shortlist, you can dig deeper into the company's project history.
#4: Experience
It should go without saying that if you're facing fire, water, or mold damage, you don't want to gamble on a company that's new to the game. Commercial services represent a specialized field that requires extensive education, training, and experience.
You want a company that has a long track record of proven success—preferably restoring buildings similar to yours with similar damage. For instance, if you have a multi-floor office building, a contractor who has only worked on residential spaces might not be up to the task. Crew size may also play a factor in that regard.
Want to know more? Contact SERVPRO for more information about building restoration services in Fort Worth, TX.
Contact Information:
SERVPRO of West Fort Worth
P: (817) 560-3086
8008 Camp Bowie W Blvd
Ste #106
Fort Worth, TX 76116