Water Damage Restoration: Emergency Actions You Should Take When a Frozen Pipe Bursts
8/11/2022 (Permalink)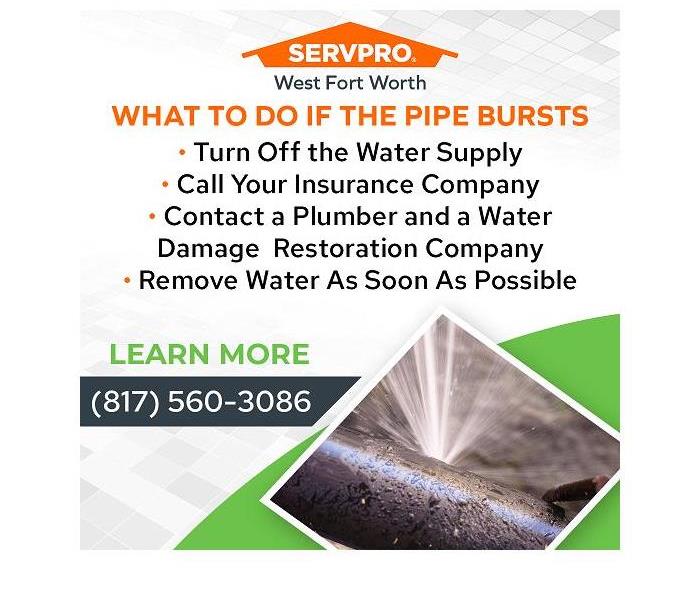 Blog Summary: SERVPRO of West Fort Worth, experts in water damage restoration, describe the symptoms of a frozen pipe and advise homeowners on what steps to take if a frozen pipe bursts.
When a frozen pipe bursts, it may cost hundreds in damages. However, there are warning signs of a frozen pipe and ways to prevent a burst before it happens.
Here's some info on handling a frozen or burst pipe. The best option is to call a specialist in water damage restoration, such as SERVPRO of West Fort Worth.
Identifying Frozen Pipes
One of the most effective preventative measures is figuring out which pipes may have frozen over and are at risk of bursting. Whenever cold weather settles in the area, be sure to turn up the thermostat and call a professional plumber. Look out for these signs that indicate a frozen pipe:
A complete lack of flowing water or strange noises from the pipes when turning the water knobs
Visible frost on the outside of pipes that may indicate internal freezing
An unpleasant smell emanating from a pipe, which may have frozen with waste inside it
Cities with mild or warmer temperatures are at higher risk of burst frozen pipes because freezing cold is atypical. Infrastructure in Fort Worth, TX, may not fare well in colder weather, so remember to call a plumber for post-freeze checks. Additionally, contact a restoration specialist if a burst pipe causes inner wall or floor damage.
What to Do if the Pipe Bursts
Turn Off the Water Supply
Before freezing weather arrives, figure out where the main water valve is in order to shut it off during emergencies. Be careful to shut off electricity in areas with water damage if possible. This will help keep you safe from electric shock.
Call Your Insurance Company
Call your insurance company as soon as possible. Insurance policies usually cover frozen pipe burst damages. The insurance company can help pay for costly repairs and lost valuables.
Contact a Plumber and a Water Damage Restoration Company
Plumbing and water damage restoration are two different skill sets, and many companies do not offer both. Plumbers are necessary for replacing the pipes, and the water damage restoration company helps clean up the aftermath. The best companies provide 24-hour emergency services to assist whenever a frozen pipe bursts.
Costs may vary depending on the severity of the damage. Contact SERVPRO of West Fort Worth for top-notch water damage restorations at (817) 560-3086.
Remove Water As Soon As Possible
Standing water can damage the walls and floors of the building, seep into the floorboards and carpets, and lead to mold and mildew development. To prevent this while waiting for the plumber, immediately use towels, buckets, wet vacuums, and mops to remove as much water as possible. The longer the water sits, the more likely it is to cause further damage.
Water Damage Restoration From SERVPRO of West Fort Worth
An experienced water damage restoration team can clean up pooling and seeping water quickly and at reasonable prices. SERVPRO of West Fort Worth has certified and specially trained technicians who know the best ways to remove and fix damaged materials and items. Their drying equipment and knowledge are second to none.
Contact Team Shaw of SERVPRO of West Fort Worth at (817) 560-3086 today for your water damage emergencies.