SERVPRO explains why a DIY sewage flood cleanup is a bad idea
8/20/2021 (Permalink)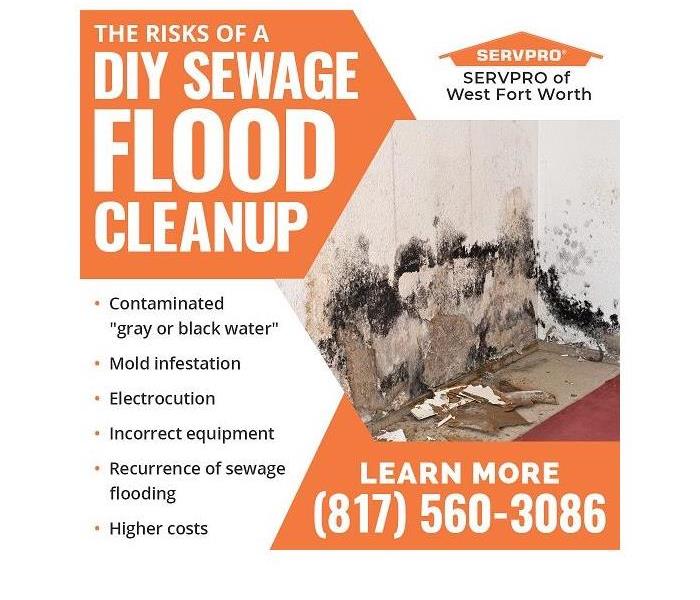 Blog summary: SERVPRO talks about the risks associated with a DIY cleanup of a home inflicted with sewage flood.
The risks of a DIY sewage flood cleanup
Sewage flooding is a critical problem that needs instant attention. The smell and the harmful bacteria and chemicals in the sewage water are a threat to the health of inhabitants. Although minor sewage issues can be addressed by homeowners themselves, a DIY sewage flood cleanup is a risk that homeowners must not take. SERVPRO shares why a DIY sewage flood cleanup is a huge risk.
Contaminated "gray or black water"
Sewage contains gray water that emerges from utilities like sinks, tubs, showers, and dishwashers. In a worst-case scenario, sewage water may consist of black water which is the water used to flush toilets mixed with human waste. There are several causes of sewage backups ranging from clogs in the home's drain pipes, tree roots to damaged sewer lines.
Sewage, particularly black water, is contaminated with parasites, viruses, bacteria, or fungi. DIY sewage cleanup can pose a serious threat to a homeowner's health, especially if there is any minor carelessness in procedure or absence of personal protective equipment. The normal gloves and masks are not enough protection when dealing with black water. There is a huge risk of contracting several diseases, such as hepatitis A and encephalitis from black water. Therefore, it is highly recommended to let the professionals deal with this hazardous task.
Mold infestation
Mold growth is a risk that water damage poses. Mold can grow within 24 to 48 hours of a sewage flood incident. All it needs to multiply is moisture, organic material, and optimal temperature. Once the drywall and ceiling are waterlogged, the mold starts growing inside the walls and crawl spaces. During a DIY, a homeowner is not only exposed to the contaminated black water but also to mold that poses several health effects. Often, mold is difficult to detect and treat and can spread to other surfaces of the house, threatening not only the building's structural integrity but also the health of the inhabitants. A professional mold remediation process is recommended to avoid these risks.
Electrocution
A flooded area poses a huge electrocution risk. Homeowners mustn't enter the flooded house until the utility company has turned off the electric as well as gas service. During a DIY cleaning, homeowners will inevitably need to use equipment to clean the house. The risk of being electrocuted by electrical wires, equipment, and fixtures is high even when the power is switched off.
Incorrect equipment
A household electrical mop and spinning scrubber can definitely help clean up spills or normal water leaks. But sewage flood water will permeate walls, floors, and subfloors. This moisture can stay hidden even after the visible water is removed. A complete sewage flood cleanup requires industry-grade tools such as dehumidifiers, moisture probes, air scrubbers, and heavy-duty fans. Without these tools, mold can spread and/or recur.
Renting or buying this equipment may prove very costly for homeowners, and the ability to use this equipment correctly may prove to be a challenge.
Recurrence of sewage flooding
Identifying and correcting the root cause of a sewage backup is the most important step towards preventing water damage. However, an unprofessional eye may be unable to assess the actual reason for the sewage flooding. If the root cause is not addressed in time, the sewage spill may recur and may cost the homeowner more than it did during the first occurrence.
Higher costs
A homeowner who doesn't have the technical know-how or the expertise in handling sewage backup may end up investing much more than is required to correct a sewage backup. If the owner misses out on even one minor step during the DIY cleanup, such as a small watermark or a mold spot, this could spiral into a huge mold infestation later. This obviously means higher costs than the homeowner had originally estimated. A professional team on the other hand would be able to assess what is needed and will address the sewage backup issue in one attempt, thereby containing the restoration cost.
A professional team such as SERVPRO has the training, the know-how, the experience as well as the latest technology to address sewage backup, efficiently and economically. Not only will the team be able to restore the property to its original state but will also protect the homeowner from the health risks of a DIY cleanup.
Why SERVPRO?
# SERVPRO uses state-of-the-art equipment to bring the damaged property back to its original state. SERVPRO of West Fort Worth is always updating its fleet and equipment so clients in Fort Worth, Benbrook, Azle, or anywhere else can quickly access the services.
# With over 1,700 US and Canadian Franchise locations, SERVPRO is strategically positioned to respond faster to an emergency of any magnitude.
# The SERVPRO staff is highly trained in property damage restoration. They receive initial in-house training and constant skill up-gradation at the corporate training facility and also acquire regular IICRC-industry certification.
For sewage cleanup and water damage restoration services, call SERVPRO of West Fort Worth today at (817) 560-3086 or e-mail at office@SERVPROheb.com