5 Dangers of Delayed Water Damage Restoration
9/23/2021 (Permalink)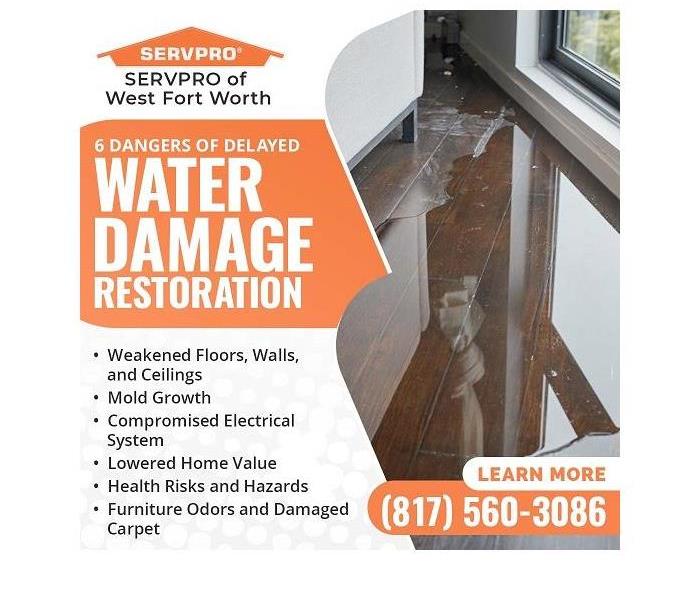 Blog Summary: The experts at SERVPRO of West Fort Worth go over the risks of delaying water removal and explain why homeowners should call a water damage restoration company as quickly as possible after water exposure.
The destructive power of water is nothing to underestimate, whether from a tiny pipe leak or a massive storm. Failing to address water damage can lead to secondary damage and the need for more costly repairs. The friendly professionals at SERVPRO, a leading water damage restoration company serving Azle, TX, urge homeowners to call for help as soon as possible after water exposure. Here's Why:
5 Dangers of Delayed Water Damage Restoration
1. Weakened Floors, Walls, and Ceilings
Wood absorbs water like a sponge, and as a result, water damage can warp flooring if left unaddressed. Worse, even after the wood dries, residual moisture can cause the weakened wood to rot, leading the structural problems.
2. Mold Growth
Mold growth is arguably the biggest risk of delaying water removal. Even slightly elevated humidity levels can lead to mold growth in as little as 24 hours under the right conditions, and mold can lead to more than just cosmetic concerns and odors. It will accelerate wood rot and poses health effects, on top of the additional cost of hiring a mold remediation company.
3. Compromised Electrical System
The longer circuit breakers, wiring, or outlets are exposed to water, the higher the risk of irreparable damage, electric shock, and even fire. Water damage restoration companies have the skills and tools to deal with these dangerous conditions quickly and safely.
4. Lowered Home Value
Without professional equipment, it can be difficult to eliminate water damage entirely. When it comes time to sell a property, the inspector will be able to tell—or smell—the remaining damage, potentially leading to a lower appraisal.
5. Health Risks and Hazards
Flood water can carry harmful bacteria, microbes, toxic waste, fungi, pollutants, bugs, sewage, and more. These contaminants present health effects, and if they are left to linger, may spread to other areas of the structure. Carefully cleaning and disinfecting all surfaces is part of the water restoration process, and it's safer for everyone involved if that process starts quickly.
6. Furniture Odors and Damaged Carpet
Like wood, water soaks into fabrics quickly. While the obvious risk there is fabric damage, not all water damages crop up immediately. Mold and other bacteria take time to grow. Carpets, furniture, and other cloth surfaces are especially prone to water-related odors. A damp carpet will also warp and ruin the foundation beneath it, especially if it's wooden.
Cleaning up the mess with household tools alone isn't enough to get the job done. Using cutting-edge tools and techniques, a residential and commercial water damage company can prevent the need for replacement, assuming they can get started shortly after the water exposure.
About SERVPRO of West Fort Worth
Locally owned and operated, SERVPRO of West Fort Worth ranks among Texas's top water and fire restoration companies and has proudly solved water damage issues in Azle, TX and the surrounding communities since 1967. They offer 24-hour emergency water restoration and only use the latest drying equipment and techniques for quality results. SERVPRO also offers commercial cleaning services.
When it comes to water damage, don't wait until the problem escalates—call SERVPRO of Fort Worth today at (817) 560-3086 for fast water removal and water damage repair.
Contact Information:
SERVPRO of West Fort Worth
8008 Camp Bowie W Blvd Ste #106
Fort Worth, TX 76116
office@SERVPROheb.com