SERVPRO classifies 6 types of storm-related floods
8/20/2021 (Permalink)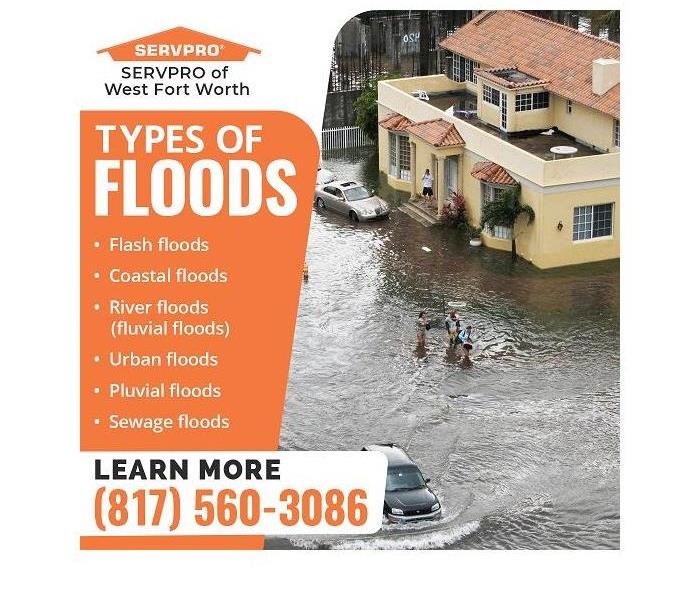 Blog summary: SERVPRO talks about the various types of floods caused by storms.
Types of floods
The storm season is often accompanied by floods. Information on these types of floods enables residents to prepare themselves for these floods and take necessary precautions to mitigate water damage and maintain the safety of their loved ones. SERVPRO shares below the different types of floods and their dangers.
Flash floods
Heavy rainfall for about 6 hours often leads to a swift rise of rapid-moving water that sweeps everything in its path. These flash floods usually occur without much warning across a relatively small area and leave little time to prepare.
Flash floods are usually caused by severe thunderstorms, hurricanes, tropical storms, or other weather patterns. They can also be a result of a dam or levee breaking or a mudslide. These rapid-moving water torrents can mobilize cars and boulders, uproot trees, destroy bridges, and trigger mudslides. They can also lead to massive structural damage to homes, including foundation damage, damages to appliances, as well as secondary water damage such as mold growth.
Urban areas are more prone to flash floods than suburban or rural areas. The lack of soil or the inability of soil in dry areas to absorb the water are the usual reasons for this increased risk. Areas near floodplains and with blocked drainage are particularly dangerous.
Residents are advised to be alert to any flood warnings and evacuation announcements.
2. Coastal floods
These types of floods are caused by strong winds, tides, heavy rainfall, or storm surges that move towards a coast during high tide, causing sea levels to rise. When powerful waves breach the coast's dune or dike, the area will be flooded. Coastal areas with fewer defenses and lower elevation are the most affected when powerful waves breach the coast's dune or dike. Coastal areas are prone to flooding due to their proximity to the ocean, and the evident impact of climate change.
Coastal flooding can lead to drownings, injuries, sickness due to exposure to contaminated water and mold growth, and mental health ramifications . There are three levels of coastal flooding:
Minor: Low likelihood of property damage and not directly life-threatening
Moderate: Elevated likelihood of property damage and possibly life-threatening
Major: Significant likelihood of property damage and seriously life-threatening
3. River floods (fluvial floods)
A river flood occurs when the water rises over the top of the riverbanks. Extreme rainfall from tropical storm systems, long-lasting thunderstorms, combined rainfall and snowmelt, and ice jams are the usual causes of river flooding. Although river floods can be predicted much ahead of time and allow enough evacuation time, a break in a dam or dike can lead to major economic damage.
4. Urban floods
Failure of the city or town drainage system to absorb the water from heavy rain and/or the lack of natural drainage in an urban area can lead to urban or groundwater floods. The overflowing drainage system spills water out into the street, making driving dangerous, causing significant structural damage to buildings, and infiltrating sewage pipes.
5. Pluvial floods
These floods are common in rural areas where the flat terrain is unable to absorb the rainwater, causing puddles and ponds to appear. This type of flooding can severely impact the agricultural activities and properties in the area.
Sewage floods
Unexpected heavy rainfall can overwhelm sewage systems or treatment plants. The consequent breakdown of these systems releases untreated sewage into water bodies. These floods are a serious hazard since the sewage water is contaminated with harmful bacteria and chemicals that can cause infections, diarrhea, fever, vomiting, and other diseases. Sewage can even leak through pipes or drains or come up through toilets, sinks, or showers.
Swift response and thorough cleanup is the only answer to this health risk.
Why SERVPRO?
# SERVPRO uses state-of-the-art equipment to bring the damaged property back to its original state. SERVPRO of West Fort Worth is always updating its fleet and equipment so clients in Fort Worth, Benbrook, Azle, or anywhere else can quickly access the services.
# With over 1,700 US and Canadian Franchise locations, SERVPRO is strategically positioned to respond faster to an emergency of any magnitude.
# The SERVPRO staff is highly trained in property damage restoration. They receive initial in-house training and constant skill up-gradation at the corporate training facility and also acquire regular IICRC-industry certification.
For storm damage restoration services, call SERVPRO of West Fort Worth today at (817) 560-3086 or e-mail at office@SERVPROheb.com