How to Inspect Your Home for Storm Damage?
8/11/2022 (Permalink)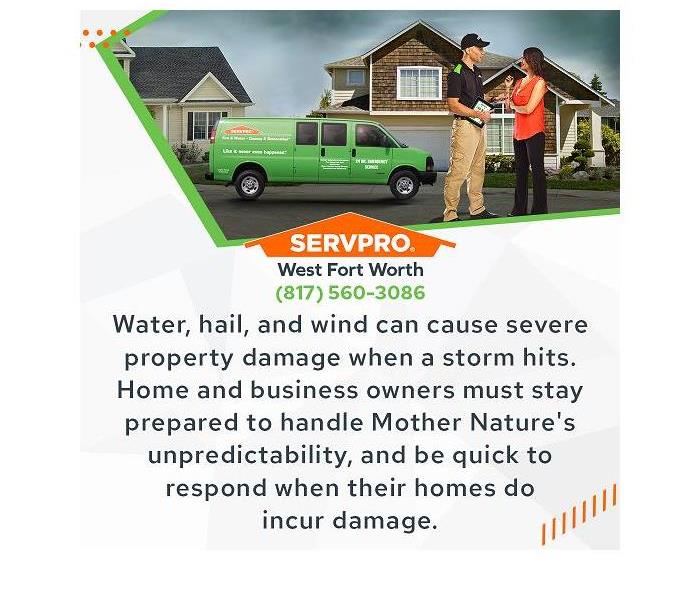 Blog Summary: The storm damage restoration experts at SERVPRO of West Fort Worth explain how to identify signs of storm damage in various parts of a home, from the roof to the floors.
How to Assess Property Damage After a Storm
Water, hail, and wind can cause severe property damage when a storm hits. Home and business owners must stay prepared to handle Mother Nature's unpredictability, and be quick to respond when their homes do incur damage. When undertaking storm damage restoration, here's what to look for in various areas of the home:
How To Check the Roof
Once the storm passes, walk around the property to visually inspect the siding, gutters, downspouts, and roof. Check the roof for wind or hail damage, including dents, damaged gutters, and torn or missing shingles. A leaky roof or water damage can lead to mold, damaging the property's foundation.
Check the yard for roof fragments, as high winds can easily rip shingles away, exposing the roof underlayment to water damage. Also, look for debris that may have fallen from the roof's metal flashing or chimney.
Go into the attic or crawlspace to check for any water leaks or glimpses of sunlight. If you do find any damage, have the roof inspected by a storm damage restoration expert.
How To Check Windows and Doors
Windows and doors are just as susceptible to damage during a storm as any other part of the house (if not more so, windows being made of glass). Here's how the elements of a storm can affect windows and doors:
Wind: High winds can uproot trees and heavy objects, hurling them through windows and doors. After the storm, safely collect and secure any broken or shattered glass.
Hail: Hailstones can cause external property damage. Check the exterior of the windows for cracked glazing and dented trim. Inspect the doors for visible dents, cracks, or broken weather stripping around the frame.
Water: High winds can push water into the windows. Condensation between double-paned windows indicates a broken seal. Additionally, rainwater may have penetrated the window if the space between the frame and sashes appears wet.
Check for other signs of water damage, including water stains, warped trim, and sagging floorboards. A storm damage restoration expert can assess the extent of damage and recommend a window/door repair or replacement.
How To Check the Exterior
Exterior damage is often the most noticeable, but it can present in many ways, all of which require attention.
Paint can peel, siding can tear loose, and stucco can crumble. Hail can cause paint and siding discoloration or spots. Walk around the property's exterior and look for the following signs:
Cracking
Chipping
Dings
Dents
Holes
If a storm hits a neighboring town like Azle, TX, it may hit West Fort Worth too. If this happens, consult an expert to inspect the property's exterior and repair storm damage. If left undetected, exterior damage can lead to high utility bills and increased susceptibility to water damage.
Call a Storm Damage Restoration Company
Preparing for storm damage requires a proactive approach. SERVPRO of West Fort Worth has strategic emergency plans to ensure quick response times and safety. The company provides fire, smoke, and water damage repair services, mold remediation, storm damage control, and sewage clean-up.
Contact Team Shaw of SERVPRO of West Fort Worth at (817) 560-3086 to schedule storm damage restoration and cleaning services.