Storm Damage Restoration Guide: Managing Insurance Claims
10/28/2021 (Permalink)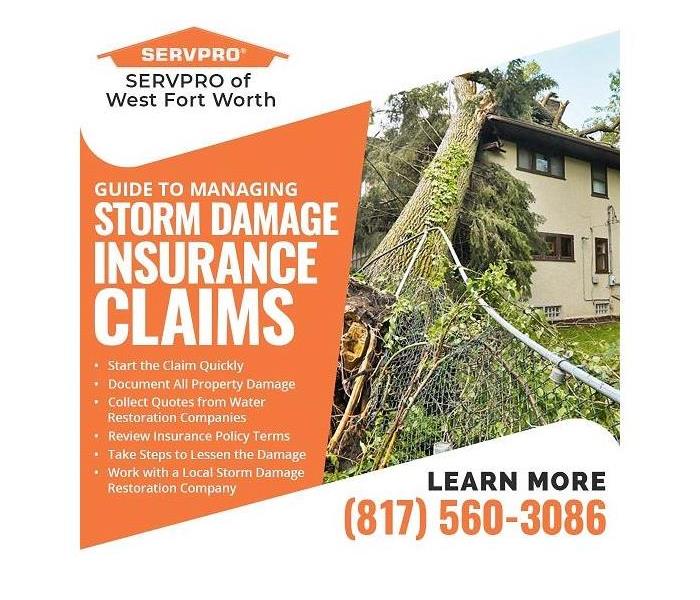 Blog Summary: The professionals at SERVPRO provide a step-by-step guide to filing an insurance claim for storm damage restoration in Texas.
Recovering after a major storm can be stressful—and the insurance claims process doesn't make it any easier. Property owners in Benbrook, TX, can contact SERVPRO of West Fort Worth for assistance with commercial and residential property damage.
Their experts can handle storm damage restoration, water clean-up, and mold removal and are always happy to help with documentation and communication with insurance providers. In the meantime, here's a step-by-step guide to the property damage insurance claim process in Texas:
Guide to Managing Storm Damage Insurance Claims
Start the Claim Quickly
In the aftermath of a significant storm, it's important to file an insurance claim as quickly as possible. Some insurance companies only accept claims filed within a certain amount of time after a natural disaster.
Document All Property Damage
When handling a storm damage restoration claim, it's vital to document any and all property damage. Take pictures of:
Physical damage to the structure of the building
Damage to personal belongings
Any damage to the inside of the property
Including photographic evidence can make a property damage claim stronger and reduce the odds of an insurance company denying the claim.
Collect Quotes from Water Restoration Companies
It's also best to contact a water damage restoration company immediately after filing an insurance claim. Their professionals can assist with the claims process.
Some insurance companies have preferred water damage restoration companies that they like their clients to hire. However, property owners can speak with multiple water and mold remediation companies to get different quotes for the costs of clean-up and repair then choose who they ultimately hire.
Some companies charge different rates for residential and commercial cleaning services. When comparing quotes, make sure to take the company's reviews and experience into account before making a decision.
Review Insurance Policy Terms
Property owners' insurance may cover the costs for emergency water restoration or commercial water damage. However, some insurance policies do not cover damage from natural flooding without additional flood insurance.
It's important to review policy terms before attempting to file a claim. Understanding the regulations set forth by the insurance company can make the claims process easier and prevent unpleasant surprises during the damage restoration process.
Take Steps to Lessen the Damage
Hurricanes, blizzards, and tornadoes can do a lot of property damage very quickly. Many property owners find contacting water or fire restoration companies quickly can help minimize the damage and prevent secondary damage, such as mold. Professional restoration crews can:
Board up damage to the roof to prevent more water from entering a home
Remove water quickly
Assess structure damage and begin cleaning up fast
Getting help right away will also demonstrate to insurance agents that an effort was made to limit the damage. In this situation, the insurance company may prove more willing to cover the costs for repairs and restoration.
Work with a Local Storm Damage Restoration Company
A storm damage restoration company is an invaluable resource when handling a property insurance claim. Crews can carry out repairs, take care of water extraction, dehumidify the property, and provide advice about all insurance companies operating in the state.
The team at SERVPRO of West Fort Worth takes care of damage caused by hurricanes, tornadoes, and other major storms in the Benbrook, TX area. Their professionals have the resources to handle both commercial and residential property damage. To learn more about their services, call (817) 560-3086.