SERVPRO: 11 Hurricane Hacks for Homeowners
7/15/2021 (Permalink)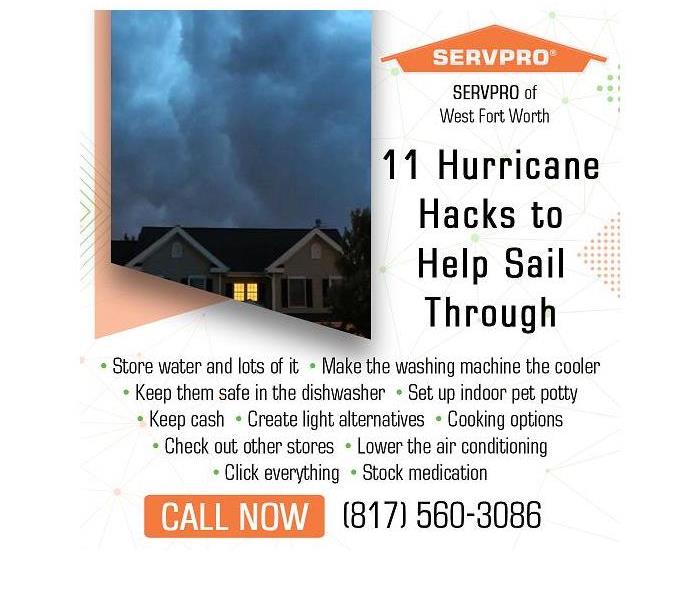 Blog summary: The article by SERVPRO shares several household hacks that homeowners can use in anticipation of a hurricane.
11 hurricane hacks to help sail through
There are many safety measures and guidelines that homeowners in hurricane-prone areas are aware of. But there are some hurricane hacks that homeowners can follow as backup plans when the hurricane strikes. SERVPRO of West Fort Worth shares a few hurricane hacks that can help.
Store water and lots of it
During and after hurricanes, water shortage can be a huge issue. Here are a few ways homeowners can stock water.
Freeze Ziplock bags with water
Stack the fridge with ziplock bags three-quarters full of water before the storm arrives. In the likelihood of a power outage, there would be an abundant supply of water.
Fill the bathtub up with water
Filling the bathtub up with water before a storm hits is a smart hack. If the power is down for long, the water can be used to clean, drink or flush toilets. Use a plastic tablecloth or shower curtain to line the tub for maximum hygiene.
Make the washing machine the cooler
Stack the washing machine with ice to keep drinks and other perishable items cold in case of a power outage. The benefit of using a washing machine is that the water will drain out as the ice melts. However, remember to unhook all the lines from the washer to avoid water or sewage backup.
3 Keep them safe in the dishwasher
A dishwasher can keep the water in and it can keep the water out. In the absence of a water/fireproof safe, a dishwasher can double up as a waterproof safe to store valuables like photo albums or legal documents. Since dishwashers are bolted to the counter, the documents will not go anywhere.
Set up indoor pet potty
With the heavy rains and flooding, walking a pet is not likely. Therefore, laying sod inside a kid's pool can help relieve a pup as the storm rages outside.
Create light alternatives
The flashlight on the smartphone or battery-operated LED light bars have longer lives than regular flashlights. Glow sticks in a bottle of water are an interesting personal light for kids or even adults.
Cooking options
Cooking is tricky without power. A camping stove is a piece of handy equipment during power outages. Although it may take a little longer to cook with this stove it is worth the investment, especially in a hurricane-prone area.
Check out other stores
Grocery stores and big-box stores quickly run out of stock when a hurricane is predicted. But one can check out places like office supply stores, home improvement stores, and army supply stores too in case of some urgent requirements.
Lower the air conditioning
Just before the storm hits, closing all blinds and curtains can keep the heat out and cool air in. Keep the AC temperature low. So when the power goes out, the house will take longer to warm up.
Click everything
Take pictures of every room, closet, exteriors, and all contents before the storm. Document everything as it will be useful while making insurance claims.
Keep cash
As the power goes out, debit and credit cards will cease working. Withdraw maximum cash so any emergency purchases after the storm are easy.
Stock medication
Refill and stock up on daily medication as pharmacies may run out of the medication. Restocking of essential medication may also take time after the hurricane.
Why SERVPRO?
# SERVPRO uses state-of-the-art equipment to bring the damaged property back to its original state. SERVPRO of West Fort Worth is always updating its fleet and equipment so clients in Fort Worth, Benbrook, Azle, or anywhere else can quickly access the services.
# With over 1,700 US and Canadian Franchise locations, SERVPRO is strategically positioned to respond faster to an emergency of any magnitude.
# The SERVPRO staff is highly trained in property damage restoration. They receive initial in-house training and constant skill up-gradation at the corporate training facility and also acquire regular IICRC-industry certification.
For storm damage restoration services, call SERVPRO of West Fort Worth today at (817) 560-3086 or e-mail at office@SERVPROheb.com