How to Plan for and Address Natural Disasters and Storm Damage
5/13/2022 (Permalink)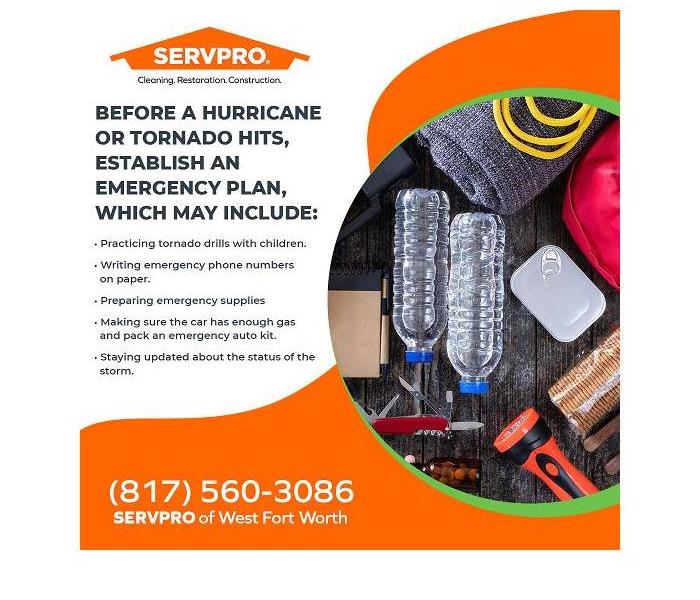 Blog Summary: Both tornadoes and hurricanes can cause severe damage to property. To plan for these destructive events, homeowners should have emergency supplies, a catastrophe plan, and a storm damage restoration company for the aftermath. Preparing for these events is integral to maintaining your family's safety and minimizing the expected cost of restoring the property.
How to Plan for and Address Natural Disasters and Storm Damage
Tornadoes and hurricanes can cause extensive property damage. They have the power to topple trees and destroy belongings. Though homeowners can always hire storm damage restoration companies after a disaster, try to prepare as much as possible beforehand.
The most important CDC tip to keep families safe from storm damage is to create an emergency plan. Afterward, make sure to seek out wind or water damage restoration quickly. Keep reading to find out more about how to stay safe during natural disasters.
Before a hurricane or tornado hits, establish an emergency plan, which may include:
Practicing tornado drills with children.
Writing emergency phone numbers on paper.
Preparing emergency supplies such as food, water, medicine, first aid tools, backup power sources, important documents, pet supplies, etc.
If preparing for an evacuation, making sure the car has enough gas and pack an emergency auto kit.
Staying updated about the status of the storm.
Learn the difference between a storm watch and a warning. A watch indicates that a hurricane or tornado may occur due to perceived climatological conditions. A warning means that meteorologists expect the storm to hit a certain area.
How to Act During a Natural Disaster
During a tornado, go to the lowest level of the house or apartment building and avoid rooms with windows. If the power goes out, bring flashlights with fresh batteries instead of candles.
During a hurricane, make sure there is no debris in the yard that the wind could blow toward the house. Block glass doors and windows with plywood in case they shatter. Finally, make sure to store drinking and bathing water.
After either type of natural disaster occurs, contact a residential or commercial cleaning service to help clear up debris and restore the property.
How to Clean Up After a Tornado or Hurricane
First, assess storm damage as soon as possible. Depending on the type of damage that has occurred, it could get worse if left for too long. For example, hurricane damage requires immediate water cleanup and possible mold removal.
Then, seek out emergency water restoration for both residential and commercial water damage as soon as the disaster ends. This will minimize costs and restore as much of the property as possible.
Find one of the mold remediation companies in the area and write down their contact information so you can be the first in line after a catastrophe.
If you need a disaster restoration company in Benbrook, TX, contact SERVPRO of West Fort Worth. SERVPRO is one of the best water, mold, and fire restoration companies available due to its high-quality customer care and dedication to the restoration process.
The founders of SERVPRO established the business in 1967 to address storm damage throughout the U.S. They have thus established efficient policies to ensure that post-storm restoration goes smoothly. Contact Team Shaw of SERVPRO of West Fort Worth at (817) 560-3086 for 24/7 storm damage restoration service, 365 days a year.