SERVPRO: Six preventive measures to protect the roof from water damage
6/17/2021 (Permalink)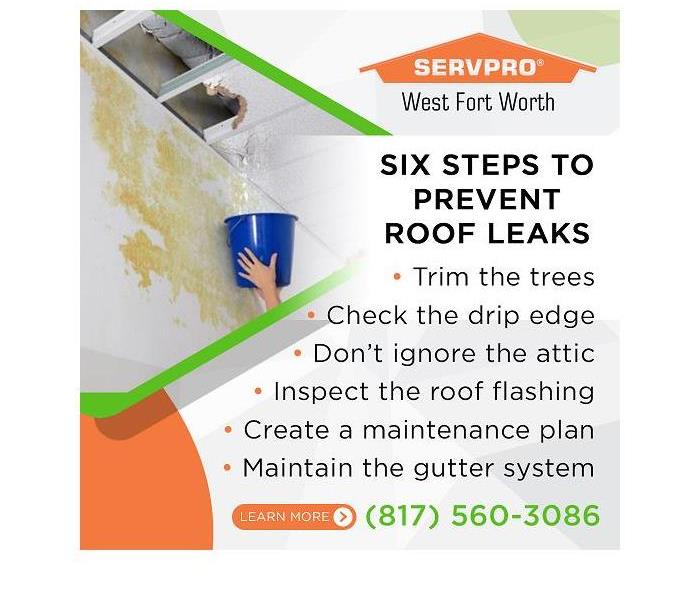 Blog summary: This SERVPRO article discusses how to prevent roof leaks that can cause severe water damage.
Six Steps to Prevent Roof Leaks
A roof system is arguably the most vulnerable part of a building's exterior. Ultraviolet radiation, wind, rain, hail, snow, and sleet all impact a roof system's performance. Minor roof leaks that are neglected can become major causes of water damage. SERVPRO of West Fort Worth suggests measures that property owners can take to prevent roof leaks and save the massive repair costs associated with them.
Create a maintenance plan
A roof maintenance plan goes a long way in preventing roof leaks. Like any other part of a building, roofs also need attention to function efficiently.
In-house maintenance program: There are some aspects of roof maintenance that do not require roofing professionals, but can be done by the building's maintenance personnel.
Historical record: A detailed history of the roof installation, repairs and changes made, and a roof plan should be included in the historical file.
Professional inspection and contractor: A professional roofing contractor such as SERVPRO can be retained to perform roof maintenance that includes visual inspection and necessary repairs. These inspections should be performed regularly by trained roofing professionals, preferably on a biannual basis.
Check the drip edge
Drip edge is an angled piece of flashing that is installed over top of a fascia board. The purpose of a drip edge is to keep water off the roof and allow gutters to carry this water away from the fascia.
It is the cheapest element of roofing but a critical one. A missing or damaged drip edge will lead to a gap between the fascia board and the roof deck allowing water as well as critters to enter the premises besides causing wood rot. Therefore it is crucial to check that the drip edge is in good shape and doing its job.
Inspect the roof flashing
The roof flashing is a thin layer of metal sheeting used to direct water away from seams and joints where moisture can penetrate the roof and cause serious water damage. It can be used around windows, doors, chimneys, gutters, or any exterior joint where the water needs to run off.
Flashing should be inspected for gaps, holes, and corrosion.
Apply a new layer of caulk after peeling off the old one from around the edges of the flashing. Caulk serves as a protection against moisture but disintegrates over time.
Nails or screws may become loose because of the natural flexing of wood over time. Any raised nails or screw heads should be tightened to keep the flashing in place.
Don't ignore the attic
Often the roof may show signs of a leak but the source may be the attic. The problem can arise due to improper ventilation, plumbing, air conditioning, condensation, vent fans, and animal or bug infestation in the attic.
Look out for algae stains on interior plywood, mold, black rings, or rust around nails - a sign of condensation in attic spaces.
Check the attic ventilation. Elements such as the soffit vents, louvers, or ridge vents, should never be blocked as that can lead to dangerous moisture and heat buildup.
Don't ignore a soaked insulation without rain, buckling shingles, and rotting sheathing and rafters as it implies a buildup in the attic.
Investigate if there are any clogged intake vents for paint, spider webs, dust, or insulation.
Maintain the gutter system
Gutters are the collection system running across the edge of the roof that helps change the direction of water that is running off the roof to the downspouts. Gutters and downspouts play an integral part in preventing water damage and roof leaks.
Clean the gutters regularly to avoid water pooling or back up under the shingles and into the walls and ceilings. The usual culprits for this blockage are dirt, leaves, branches, twigs, pine needles, and other outdoor debris.
Eliminate pests and rodents that may have made the gutters their home, thereby clogging them.
Check the gutters for holes or rust. This damage can be repaired with the help of a gutter patching kit, caulking, or sealing. Gutters that are at the end of their lifespan must be replaced.
Weak or missing supports and loose nails and screws must be replaced.
The downspouts should extend several feet away from the house to avoid water draining too close to the foundation.
The gutter system should be a part of the regular roof maintenance and inspection plan and be cleaned at least twice a year. If the property is surrounded by trees and bushes, gutters should be inspected more frequently to discourage clogging due to plant debris.
Trim the trees
Greenery near the house is extremely comforting and visually appealing but it poses certain risks to the property.
Overhanging trees must be trimmed so they cannot scratch the roofing material or puncture windows during storms and winds. The leaves and branches on an overhanging tree can also clog the gutters.
For roof maintenance and roof leaks, and an experienced water damage restoration team, clients can contact SERVPRO of West Fort Worth.
Why SERVPRO?
# SERVPRO uses state-of-the-art equipment to bring the damaged property back to its original state. SERVPRO of West Fort Worth is always updating its fleet and equipment so clients in Fort Worth, Benbrook, Azle, or anywhere else can quickly access the services.
# With over 1,700 US and Canadian Franchise locations, SERVPRO is strategically positioned to respond faster to an emergency of any magnitude.
# The SERVPRO staff is highly trained in property damage restoration. They receive initial in-house training and constant skill up-gradation at the corporate training facility and also acquire regular IICRC-industry certification.
For roofing and water damage restoration services, call SERVPRO of West Fort Worth today at (817) 560-3086 or e-mail at office@SERVPROheb.com