5 Most Common Causes of Fire to Look Out For in a Commercial Property
12/16/2021 (Permalink)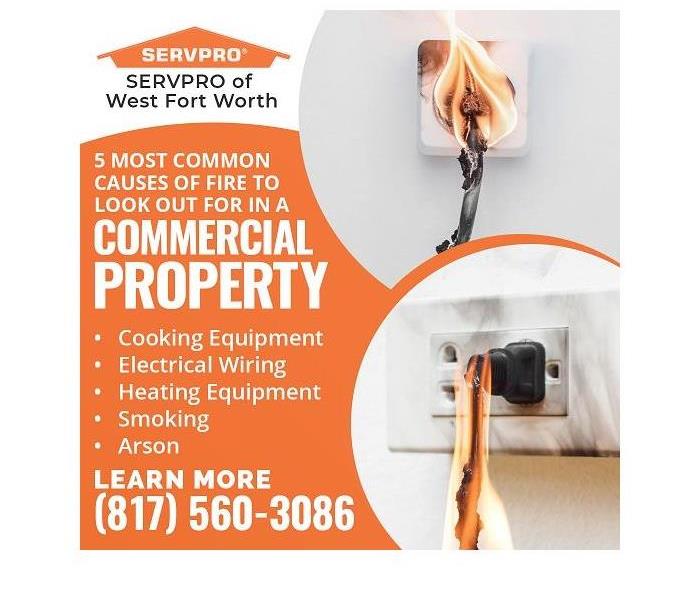 Blog Summary: SERVPRO advises Fort Worth residents on many of the most common causes of fire to look out for on commercial properties.
SERVPRO of West Fort Worth is a leading commercial damage restoration company serving businesses in Fort Worth, Pelican Bay, Benbrook, TX, and the surrounding areas with commercial cleaning services, mold removal, and restoration. As one of the top fire restoration companies in the area, the SERVPRO team commits to educating Texas business owners. SERVPRO provides information on the five most common causes of a fire to be aware of on commercial properties.
5 Most Common Causes of Fire to Look Out for in a Commercial Property
#1: Cooking Equipment
Whether a kitchen is in a restaurant or office, cooking equipment is the most common cause of a commercial fire. Commercial kitchens must have automatic fire extinguisher systems in place if a cooking equipment fire arises. OSHA suggests a Class K fire extinguisher for putting out grease fires. Commercial kitchens may also require water cleanup after a fire to remove water and prevent mold growth after sprinklers extinguish the flames.
#2: Electrical Wiring
Despite modern construction innovations, electrical wiring is the source of many commercial fires. When electrical components become faulty, serious fire hazards can occur. Whether wiring is old, there are loose connections, or lightning creates electrical issues, these situations can create significant fire damage.
Lighting equipment can pose just as much of a safety risk. Faulty lights can overheat and start a fire before you realize it.
#3: Heating Equipment
Commercial businesses invest in heating equipment to keep employees or customers comfortable. However, heating systems are among the top causes of commercial fires. The NFPA states that faulty heating equipment has contributed to 11% of commercial office fires within the past four years.
Regular inspections of heaters, boilers, and generators and prompt replacement of outdated equipment are two ways business owners can prevent fires.
#4: Smoking
While accidental fires caused by cigarettes aren't the most common commercial fires, smoking materials can lead to significant fire damage. Nearly 10% of fires in offices are from smoking, while restaurants come in second for smoking at 7%.
Business owners should establish an area for employees to take smoke breaks away from open flames or fire hazards. They should also have a clear building evacuation plan in case of fire. SERVPRO's fire restoration professionals can mitigate fire damage from smoking and implement better safety tools.
#5: Arson
Fires started intentionally require police officers to establish criminal intent in an arson case. 36% of fires in educational facilities happen intentionally, while that statistic jumps down to 10% for office buildings.
Commercial victims of arson can receive assistance whether they need water damage restoration or mold remediation. While some water damage restoration and mold remediation companies don't have the means to support businesses, SERVPRO serves both residential and commercial clients for all restoration needs.
About the Company
SERVPRO of West Fort Worth, TX, differs from typical water restoration companies. The licensed team understands business owners' needs when fires occur. Whether you need commercial water damage repairs or emergency water restoration, SERVPRO's professionals are ready to serve.
Don't let a fire potential reduce your chances of getting commercial damage restoration in Fort Worth, TX. Stay safe and point your fire safety efforts at the most common causes. Schedule an appointment ahead of time or contact SERVPRO for commercial damage restoration services by calling (817) 560-3086.