Winter Mold is a Scary Problem to Have. Let SERVPRO help!
11/11/2021 (Permalink)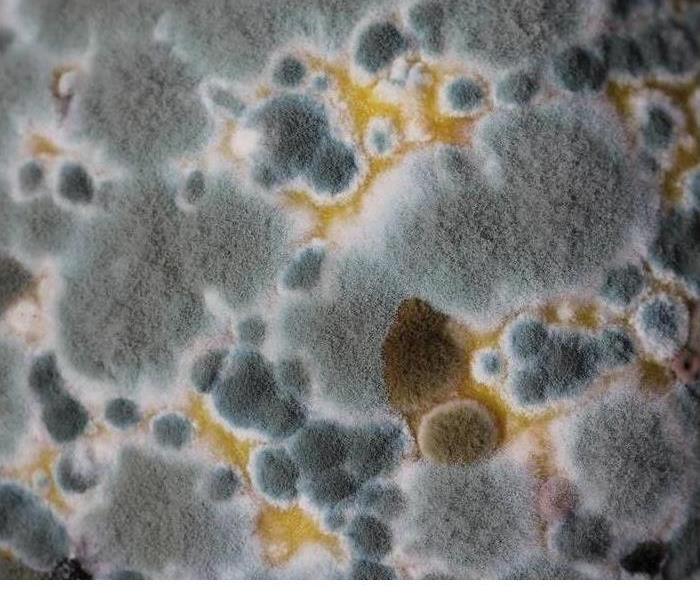 Even though mold is generally suppressed during the winter months, mold damage can still occur. Mold damage can affect the structure of your Azle property. SERVPRO of West Fort Worth understands that your home or business is more than just the sum of its parts. It's where you've created valuable memories and successes that last a lifetime.
How Can SERVPRO of West Fort Worth Restore Your Property From Mold Damage?
Our "restore vs. replace mentality" helps you preserve cherished mementos that are irreplaceable. It saves you money as well.
Some of our mold restoration services that we offer include move-outs, electronic cleanup, documents/photographs drying, and contents claim inventory service.
The restoration process involves minor repairs such as installing new carpet and replacing drywall and painting, but it can also involve major repairs such as reconstruction in various areas of your Lake Worth home or business- it depends on the scope of the mold damage.
No matter how major or minor the mold remediation process may be, our experienced technicians are trained to arrive on the scene with a 24-hour emergency response time.
How Can SERVPRO of Grapevine/ NE Tarrant County Handle Commercial Mold Remediation?
Mold infestations can be caused by minor water invasions, such as a loose plumbing fitting or a roof leak. The key is to act quickly because mold left untreated can spread rapidly.
We first contain the infestation to prevent the spread to other parts of the building before beginning the restoration process. This also incorporates a mold damage assessment, air filtration, removing mold-infested items, and deep-cleaning your belongings.
We utilize several methods to clean your belongings which include:
Dry cleaning
Wet cleaning
Foam cleaning
Spray and wipe
Immersion cleaning
Abrasive cleaning
Mold is a highly inconvenient occurrence that can happen in your Bend room home or business. While it doesn't take much for mold growth to spread, it also doesn't take much to call SERVPRO of West Fort Worth if you are experiencing mold damage to your property. Call us today at (817) 560-3086. This franchise is independently owned and operated.