Key Characteristics of Water Removal vs. Water Damage Mitigation for Residential and Commercial Water Damage
5/13/2022 (Permalink)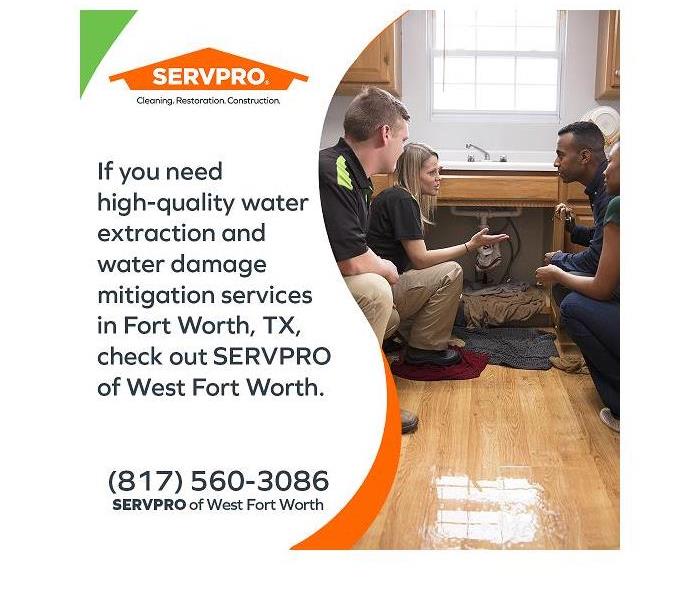 Blog Summary: Finding a commercial water damage restoration service quickly after a water-related disaster can greatly reduce the cost of property destruction. It is important to invest in both water removal and water damage mitigation. These terms entail the proper cleaning and sanitation services homeowners must invest in before considering water damage restoration. Only a professional can employ the correct industrial-grade tools to clean up after a catastrophe.
What Is Water Extraction vs. Water Damage Mitigation?
After a flood or other disaster, homeowners must understand the difference between water removal vs. water damage mitigation and call in the professionals immediately. Time is of the essence— leaving stagnant water in your home for too long can damage the foundation, furniture, and interior decoration.
Keep reading to find out more about the difference between "water removal" vs. and "water damage mitigation" and why Fort Worth residents need both for residential or commercial water damage.
The difference between water removal vs. water damage mitigation lies in preventive action versus post-damage repair.
Water Extraction
Water removal takes place after water damage occurs. With this process, professionals remove water from a home damaged by flooding before it can cause further damage.
When completing water removal, restoration companies use vacuums and pumps to remove excess water, infrared cameras to locate moisture in walls, and hygrometers to determine the severity of dampness present.
Water that's intruded into a home can carry dangerous bacteria, and even clean water brings in moisture that can warp and weaken a house, as well as encourage mold growth. Water removal removes the water and the dangers that come with it and thus is essential for any area impacted by flooding.
Extraction is a temporary solution to a potentially dangerous problem. Even if water removal goes correctly, the property is likely to experience the same problem in the future if homeowners don't also take preventive action.
Water Damage Mitigation
Water damage mitigation is, at its core, the process of improving a house's structure, installing gutters or downspouts, or installing sump pumps to prevent water from entering a home in the first place. This occurs in two phases: preventive action before a disaster, and the cleanup process after.
In the first case, water damage mitigation is a method to help waterproof a property against another water-related catastrophe in the future. It can help homeowners avoid spending money on expensive repairs.
In the second case, water damage mitigation involves preparing a damaged space for restoration. During water damage mitigation, a restoration company uses several tools, such as air scrubbers, floor drying systems, and industrial-grade dehumidifiers, to dry and disinfect the affected property. Mitigation may also include the removal of unsalvageable construction materials such as insulation, drywall, flooring, along with other items necessary to property dry the structure.
Which Is Best for My Home or Business?
The simple answer is that both water damage mitigation and water removal are crucial to keep a home safe from flooding. Mitigation helps prevent water from entering a home in the first place, and helps prevent secondary damage after a water damage event. Water removal gets rid of any water that has managed to get in. Together, these measures fix water damage and prevent more from occurring.
Where Can I Find a Local Water Damage Cleaning Service?
If you need high-quality water removal and water damage mitigation services in Fort Worth, TX, check out SERVPRO of West Fort Worth. SERVPRO's founders established the company in 1967, meaning they have over 50 years of experience in cleanup and restoration jobs.
SERVPRO's IICRC-certified staff can easily clean up or restore residential and commercial water damage. Contact Team Shaw of SERVPRO of West Fort Worth at (817) 560-3086 for regular and emergency water damage services 24/7.