Firework Safety and Keeping Pets Safe
7/17/2022 (Permalink)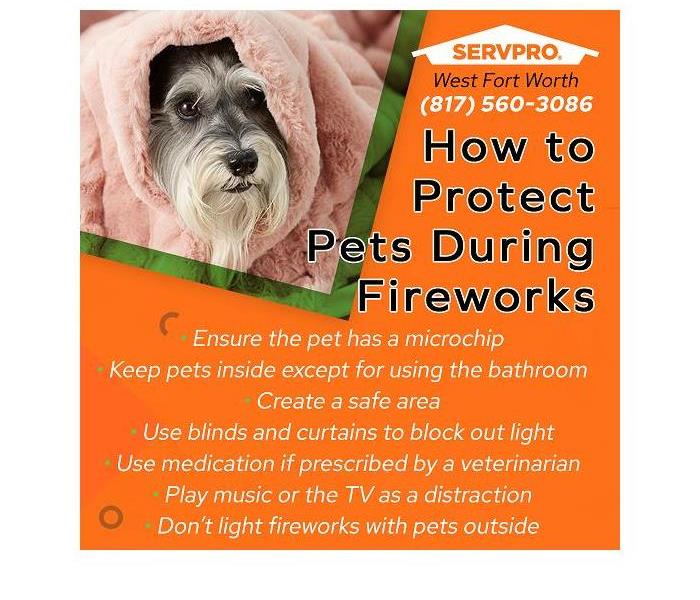 Blog Summary: SERVPRO of West Fort WorthSERVPRO's fire damage prevention team explains several fire safety tips, how to keep pets safe around fireworks, and outlines available restoration and safety services.
Firework Safety Tips To Keep Pets Safe
Once summer kicks off, many enjoy beautiful fireworks displays. However, fireworks injure around 11,500 people in the United States each year and may wreak havoc on pets.
With this in mind, fire and water damage may occur this summer. When they do, contact Team Shaw of SERVPRO of West Fort Worth at (817) 560-3086 for high-quality fire and water damage restoration and commercial cleaning services.
Overview of Fire Safety
Fire safety is of the utmost importance all summer long. Unfortunately, accidents happen. When fireworks season begins, so does the need for fire damage restoration.
If a firework or fire damages a residence, the SERVPRO team offers comprehensive cleanup services to restore it to its original condition.
Keep Pets Safe
Many people love fireworks. However, pets aren't thrilled by them. They fear loud noises and bright lights associated with fireworks. Some pets tremble and shake, have no bladder control, or run away during fireworks.
In addition to the anxiety fireworks cause pets, they're also a fire hazard. Fireworks may land on a residence and cause damage, or a pet may run into fire hazards like matches and fireworks. So remember to exercise fire damage prevention for extra precaution, regardless of what can go wrong.
How to Protect Pets:
Ensure the pet has a microchip
Keep pets inside except for using the bathroom
Create a safe area
Use blinds and curtains to block out light
Use medication if prescribed by a veterinarian
Play music or the TV as a distraction
Don't light fireworks with pets outside (they may try to eat firework remnants or catch fire if close)
Summer Restoration Services
Texas summers bring a variety of conditions that pose a threat to residences and commercial buildings. Keep reading for the three different services offered by SERVPRO.
Fire Damage Restoration
SERVPRO is top-rated among fire restoration companies that offer quick, reliable servicing. The restoration technicians ensure soot cleanup, damage assessment, immediate board-up or tarping (if necessary), repair, and restoration in an efficient manner.
Water Damage Restoration
While fire damage restoration companies are essential, so are water restoration companies. For residents of Azle, TX, emergency water restoration is necessary when floods happen.
SERVPRO handles both residential and commercial water damage. Unfortunately, once water is in residence, mold can grow in as little as 48 hours and create even more significant issues this summer.
Mold Remediation
If water floods a residence, then the mold is likely there too. Mold remediation involves getting to the source of the mold and completing mold removal to bring the building's mold levels back to normal. Removing 100% of mold is not possible, but by understanding the science of mold growth, SERVPRO stands out among mold remediation companies to keep homes clean and safe.
SERVPRO of West Fort Worth offers fire, water, and mold damage restoration. The team of professionals is here to complete any summer restoration project and has been providing local service since 1967.
The goal for SERVPRO is to make the cleanup process like the flooding never even happened. So whether it's fire, mold, or water cleanup, this team ensures quality work.
Contact Team Shaw of SERVPRO of West Fort Worth today at (817) 560-3086 for reliable and valuable fire damage prevention tips and services!