Grilling and Campfire Safety Tips
6/16/2022 (Permalink)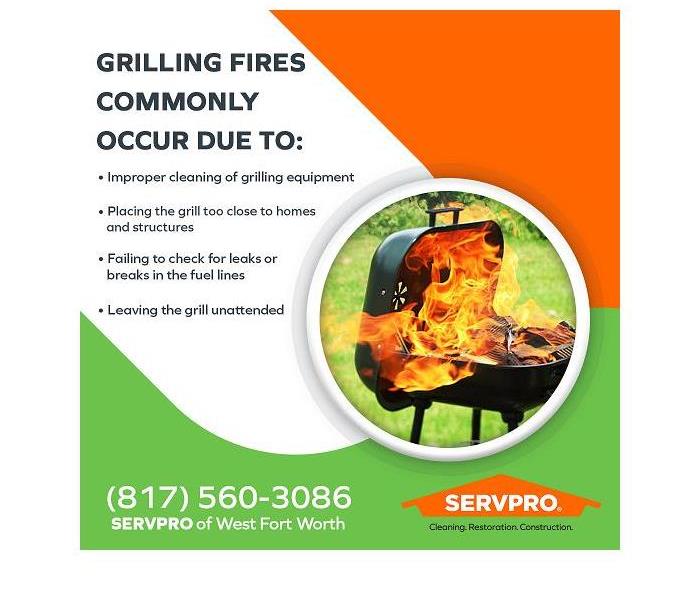 Blog Summary: Grill fires are responsible for most outdoor fires resulting in millions of dollars in damage each year. These fires are highly preventable with proper planning and preparation.
Who doesn't look forward to summer vacation, family road trips, and outdoor gatherings? These events usually involve fun-filled days in the sun and fresh food off the grill. Unfortunately, when grill operators fail to prepare, accidents happen, damaging property and injuring attendees.
Contact Team Shaw of SERVPRO of West Fort Worth for information on fire damage prevention and restoration, residential water cleanup, or commercial water damage restoration.
Fire Facts from a Fire Damage Restoration Company
According to the National Fire Protection Agency (NFPA), more than 10,000 home and outdoor fires occur yearly. Those fires cause more than $14 million in damages requiring the need for professional fire restoration companies. Grilling-related fires account for more than 54% of those yearly fires.
Grilling fires commonly occur due to:
Improper cleaning of grilling equipment
Placing the grill too close to homes and structures
Failing to check for leaks or breaks in the fuel lines
Leaving the grill unattended
Of those grilling-related fires, unchecked, cracked, and broken gas lines are responsible for 10% of gas grill structural fires and 22% of outdoor gas grill fires.
Nearly 20,000 people seek treatment in emergency rooms each year for grill fire-related burn injuries. Almost 2,000 of those emergency room visits involved children under five.
Fire Damage Prevention Tips
Of all fires, grilling fires are one of the easiest to avoid with proper fire prevention steps. For a safe and enjoyable grilling experience, follow these simple tips:
Clean and inspect grills regularly for breaks, cracks, or leaks.
Only use the grill outside in a well-ventilated area, away from homes and structures.
Wear proper clothing.
Keep spray bottles and fire extinguishers close by in case of emergencies.
Keep children and pets three feet away from grills at all times.
If using charcoal, keep charcoal fluid out of reach from children.
Minimize distractions, including drinking alcohol while grilling.
Do not leave the grill unattended.
Dispose off ashes in a metal container and allow ashes to cool for at least 48 hours before handling.
SERVPRO of West Fort Worth
SERVPRO of West Fort Worth, TX is a family-owned and -operated damage restoration company serving residential and commercial properties in West Fort Worth and the surrounding areas. The company's services include:
SERVPRO offers a free evaluation of your damages and is available 24 hours a day to handle emergency restoration needs, including emergency water restoration. The courteous and professional staff is certified and trained to manage all your restoration needs, regardless of size. The technicians use only the best equipment in the industry.
Many companies offer restoration services following a disaster or major storm. Don't waste time filling your contact list with separate names of restoration companies, such as water restoration companies, mold remediation companies, and fire restoration companies. SERVPRO of West Fort Worth is your one-stop shop for all damage restoration issues.
Contact Team Shaw of SERVPRO of West Fort Worth at (817) 560-3086 for quick and efficient fire damage restoration at affordable rates. Let the experienced team help you with fire damage prevention or restore your property to pre-damage conditions.