Advanced Technologies Used in Property Damage Restoration
9/23/2021 (Permalink)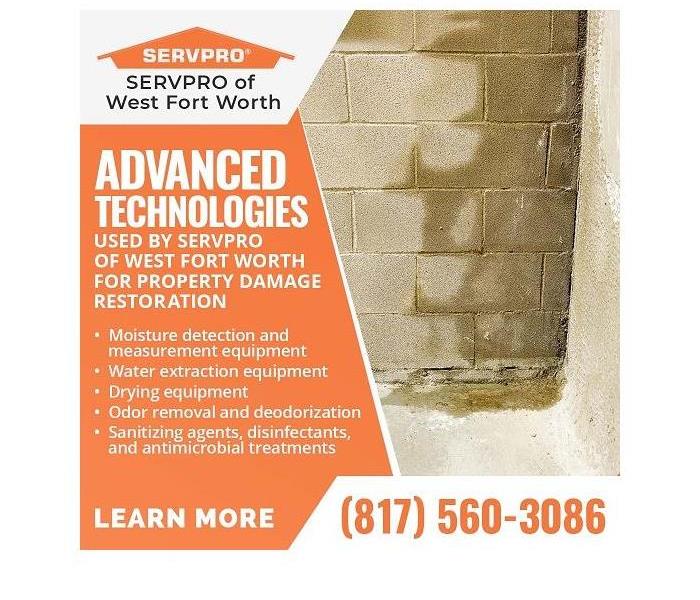 Blog Summary: The professionals at SERVPRO of West Fort Worth briefly explain the advanced restoration technologies they use and the importance of these tools for property damage restoration.
Whether it's emergency water restoration companies or mold remediation companies, adopting new technologies improves the quality of service for everyone—insurance companies, fire restoration companies, and property owners. That's why restoration companies are always bringing in high-tech solutions and cleaning techniques to provide the best care possible.
The professionals at SERVPRO of West Fort Worth take advantage of all types of advanced technology ranging from moisture detection and measurement equipment to drying and odor removal equipment.
Advanced Technologies Used by SERVPRO of West Fort Worth for Property Damage Restoration
#1: Moisture detection and measurement equipment
SERVPRO utilizes specialized drying equipment to detect, measure, and monitor structure moisture levels. Infrared cameras, for example, allow technicians to detect water through a floor, wall, or ceiling. Their damage restoration experts measure the extent of moisture saturation in a building using hygrometers, sensitive moisture detectors, and other meters.
The company also takes advantage of remote monitoring applications. By monitoring the conditions of your property in real-time, the restoration team can plan visits based on collected data. At the end of the project, this data can produce better, more reliable documentation for insurance companies.
#2: Water extraction equipment
Commercial water damage restoration and water clean-up can be challenging and time-consuming without proper equipment. SERVPRO's team uses powerful extraction equipment to remove the bulk of water in homes and businesses to speed up the drying process. Some examples of the equipment they use include:
Truck-mounted and portable extraction units designed for efficient water removal
Gas-powered and submersible pumps to pump high-level water
#3: Drying equipment
Proper drying helps to prevent floors, walls, and furniture from swelling and warping. Once SERVPRO's technicians have removed excess water from a building, they leverage industrial-grade dehumidifiers and air movers to remove the remaining moisture from walls, ceilings, and floors. Dehumidifiers remove excess humidity from the air, while high-speed air movers cause moisture to evaporate faster.
#4: Odor removal and deodorization
Water, fire, and storm damage can leave behind strong odors. During the clean-up and restoration process, technicians at SERVPRO use air scrubbers, thermal foggers, and deodorization agents to remove unwanted odors and deodorize the space. These machines remove airborne contaminants and control indoor air quality.
#5: Sanitizing agents, disinfectants, and antimicrobial treatments
Depending on the state of the property being cleaned, the technicians may need to use OSHA-approved cleaning agents to remove contaminants and/or odors. Deodorization products control odors that result from excessive moisture, while disinfection products stop the growth of harmful pathogens and other microorganisms.
About SERVPRO of West Fort Worth
SERVPRO of West Fort Worth is a locally owned and operated leader in the property damage restoration industry. The company leverages advanced technologies to provide superior residential and commercial restoration and cleaning services in or near Fort Worth, TX. They can handle water damage restoration, fire damage, mold removal, and biohazard clean-up and also offer residential and commercial cleaning services.
This full-service property damage contractor is Institute of Inspection Cleaning and Restoration Certification (IICRC) certified and available 24 hours a day, seven days a week for emergency service.
Contact SERVPRO of West Fort Worth or follow them on Facebook for more information about property damage restoration in Fort Worth, TX, and the surrounding communities.
Contact Information:
SERVPRO of West Fort Worth
8008 Camp Bowie W Blvd Ste #106
Fort Worth, TX 76116
(817) 560-3086
office@SERVPROheb.com