SERVPRO: What Are the Signs of a Reliable Restoration Company for Homeowners?
7/15/2021 (Permalink)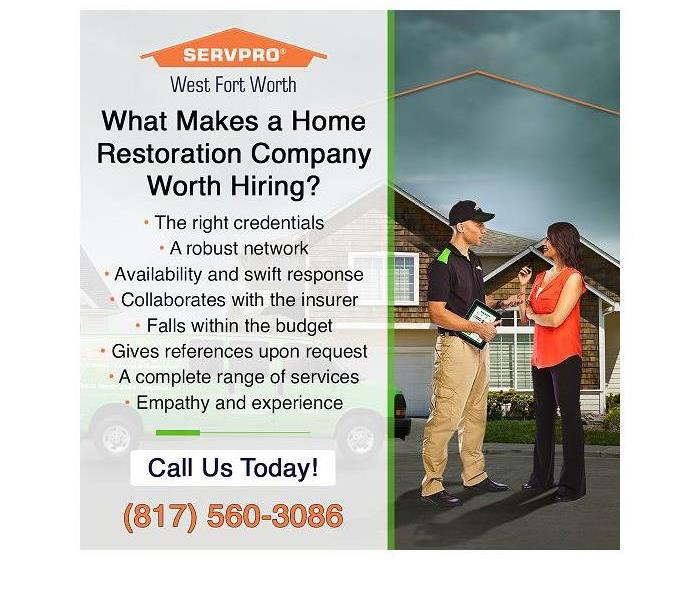 Blog summary: The SERVPRO article discusses the qualities that a homeowner must look for when researching for a good restoration company. The right choice can mean a smooth, economical, and reliable restoration of the property while a poor choice can spiral into further losses and unexpected expenses.
What makes a home restoration company worth hiring?
Every year the country experiences natural disasters such as floods and fires that damage homes across the country. A poor choice in a disaster recovery team can cause further losses to a homeowner. SERVPRO of West Fort Worth, an experienced disaster recovery specialist, shares what it takes to be a top-notch restoration company that homeowners can rely upon without a worry.
The right credentials
A professional restoration company understands that its team is its biggest asset. So it invests in the team's training and constant up-gradation. Homeowners should look out for restoration companies certified by IICRC (Institute of Inspection Cleaning and Restoration). The IICRC certification ensures that the team is well-versed in the latest technology and procedures and also operates under a strict code of ethics.
The IICRC is the Institute of Inspection Cleaning and Restoration Certification, a non-profit organization for the Inspection, Cleaning, and Restoration Industries. The IICRC offers multiple certifications across the Inspection, Cleaning, and Restoration Industries that are taught by highly trained approved instructors and schools.
SERVPRO is an IICRC-certified restoration company that has been maintaining the highest standards of cleaning and restoration across residential and commercial properties for over 50 years.
A robust network
An experienced restoration company functions smoothly and swiftly due to its vast network of plumbers and contractors to speed up the recovery process. Moreover, a restoration company that has franchises across a vast territory has the resources to address any cleaning or restoration issue at any location. A restoration company such as SERVPRO has experience in working with property owners across various locations across the United States as well as Canada. Moreover, an experienced remediation company has the resources and connections to manage the process from start to finish, which makes restoration a seamless process.
Availability and swift response
When disaster strikes, there is no concept of day or night. A disaster response team that is available 24X7 and can reach the location in a matter of minutes is what counts. A professional restoration team ensures that they are accessible and available at all times.
Homeowners must keep the contact information of such restoration companies handy in cases of emergencies. These companies may also be associated with the insurance carrier of the homeowners, which shortens their response time drastically.
Collaborates with the insurer
A restoration company that works with the client's insurance is a blessing. Homeowners can confirm if the restoration company they are opting for works with their insurance carrier or not. A history of collaboration between the restorer and the insurer eases and hastens the filing and claims process. An experienced restoration company like SERVPRO will have established relationships with several insurance carriers, insurance agents, house inspectors, adjusters, and other relevant contractors.
Falls within the budget
Sometimes the insurer may not cover every restoration expense. If the property owner's budget is limited, a cheap restoration service is still a bad idea and a long-term loss. A good restoration service will aim to work within a client's budget by offering competitive rates and completing the job thoroughly and professionally.
Gives references upon request
An experienced restoration company shares reviews and feedback received from its customers. Property owners may research these reviews on the company website, social media, and review sites to choose the restoration company that is a good fit for them. Even personal references given by family members and friends are a good place to start the research with.
A complete range of services
Coordinating between multiple teams for different services can prove to be a painful and expensive deal as a property gets restored and cleaned. Therefore, choosing a restoration company like SERVPRO that not only restores but also provides cleaning
services is a convenient and economical option.
Empathy and experience
An experienced restoration company like SERVPRO of West Fort Worth has dealt with numerous home damage situations due to water, fire, or mold. Post such traumatic events, homeowners are often disturbed and confused. The SERVPRO team understands and empathizes with the homeowners and aims to create a smooth, swift, hassle-free, and economical restoration experience.
Why SERVPRO?
# SERVPRO uses state-of-the-art equipment to bring the damaged property back to its original state. SERVPRO of West Fort Worth is always updating its fleet and equipment so clients in Fort Worth, Benbrook, Azle, or anywhere else can quickly access the services.
# With over 1,700 US and Canadian Franchise locations, SERVPRO is strategically positioned to respond faster to an emergency of any magnitude.
# The SERVPRO staff is highly trained in property damage restoration. They receive initial in-house training and constant skill up-gradation at the corporate training facility and also acquire regular IICRC-industry certification.
For fire and water damage restoration services, mold remediation services, and cleaning and building services, call SERVPRO of West Fort Worth today at (817) 560-3086 or e-mail at office@SERVPROheb.com