5 Top Causes of Commercial Damage to Watch Out For
10/28/2021 (Permalink)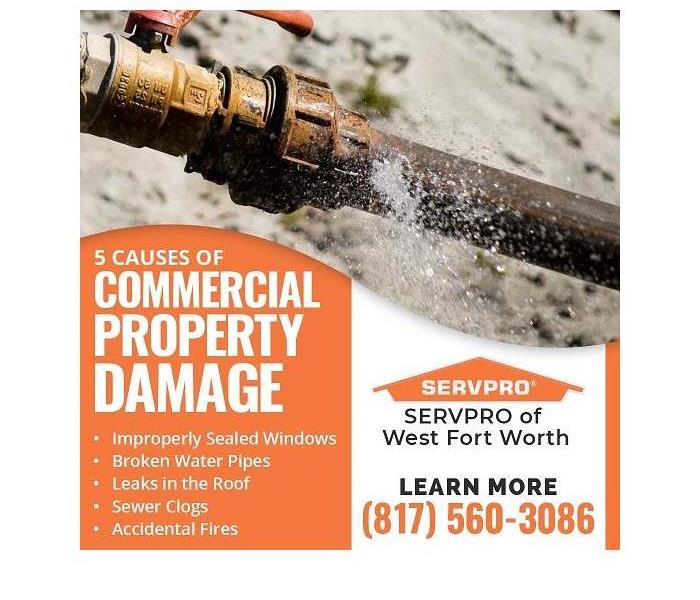 Blog Summary: The experts at SERVPRO of West Fort Worth explain the most common causes of commercial property damage in Texas.
Texans file about $32.6 billion in property damage claims yearly—which comes as no surprise as Texas ranks at or near the top nationally for a range of severe weather events, from hurricanes and hail to wildfires and floods. For commercial property owners, these events, among other property threats, can mean more than just damage. They also lead to lost business, lost wages, and more.
Understanding the most common causes of commercial property damage can help business owners protect themselves from perils. SERVPRO, a leading property damage restoration company in Fort Worth, TX, is here to review those causes. SERVPRO handles all forms of commercial damage restoration, including water cleanup, mold removal, and fire restoration.
5 Causes of Commercial Property Damage
#1: Improperly Sealed Windows
Drafts aren't uncommon in commercial facilities, but they can indicate improperly sealed windows. Poorly sealed windows allow in cold air, moisture, and even rain. Moisture seeping in from windows can warp surrounding wood and cause mold growth. Water restoration companies can resolve any moisture and provide additional repairs in this situation.
#2: Broken Water Pipes
Commercial water damage can occur due to damaged plumbing and fire suppression systems. Pipes can burst due to pressure changes, rust, or sudden drops in temperature. Signs of a pipe burst can include:
Water stains on the ceiling or walls
Bulging drywall
A musty smell
Cracked flooring
A commercial damage restoration company can take care of this issue, stopping additional water from entering the property and removing any excess water released by the pipes. Handling water damage restoration quickly can help prevent mold growth and additional damage.
#3: Leaks in the Roof
Roofs can get leaky over time, especially when exposed to heavy rains or windstorms, allowing water to leak down into walls, causing issues with mold and mildew as well as ceiling damage.
Mold remediation companies can step in to address any issues with fungal growth. Removing moisture right away can stop mold from spreading. Work with the professionals to fix any roof leaks, dehumidify the property, and address concerns regarding mold growth.
#4: Sewer Clogs
Sewer clogs are one of the most common reasons companies call for emergency water restoration. Sewage systems may get clogged if customers flush inappropriate objects. Signs of a toilet clog may include:
Water backing up out of drains
Gurgling sounds in the toilet
Foul odors in the bathroom
Addressing this issue promptly can help prevent a sewage overflow, which may cause more damage in the long run.
#5: Accidental Fires
Some businesses, like restaurants, have a higher risk of experiencing an accidental fire. Fires may start in the kitchen, spreading quickly through the rest of a building. In addition to facing damage from smoke, soot, and ash, fires often cause commercial sprinkler systems to kick on, dousing the property in water.
Fire restoration companies step in to help in this situation, getting rid of the smell of ash, fire damage, and other issues. Hiring a commercial cleaning service following a fire often allows a business to return to normal operations more quickly.
Get Assistance from a Local Commercial Damage Restoration Company
SERVPRO provides commercial damage restoration services to business owners throughout the Fort Worth area. The company offers 24-hour emergency service, allowing them to address both large and small disasters quickly.
All SERVPRO technicians are highly trained and focus on putting their clients first. Team members use cutting-edge professional equipment that can remove water, get rid of odors, and help businesses recover after a fire or flood. Call (817) 560-3086 to learn more.