Why SERVPRO is Your Best Option for Emergency Property Damage Restoration
10/28/2021 (Permalink)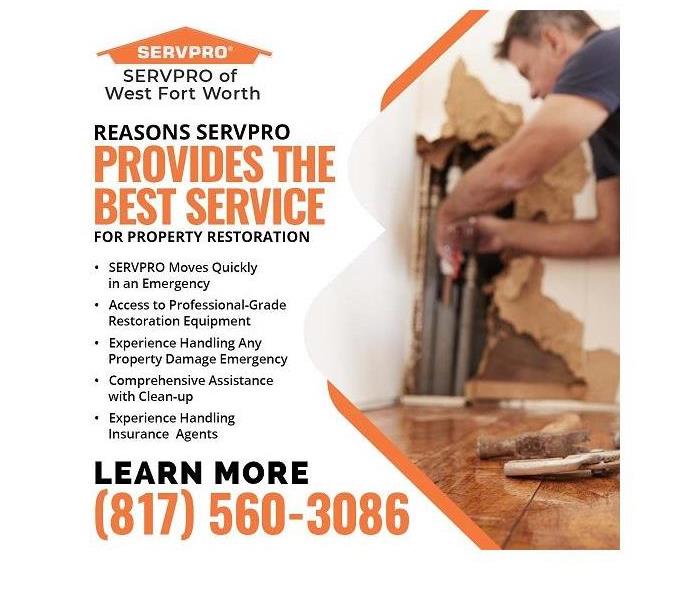 Blog Summary: SERVPRO, a leading property damage restoration company, details the benefits of working with a professional after a property damage emergency.
Property owners can get help handling the aftermath of a flood, fire, or mold outbreak by contacting SERVPRO. Their experts provide comprehensive property damage restoration services in Azle, TX, and the surrounding areas, including water clean-up, mold removal, fire damage restoration, and more.
Getting professional assistance with residential and commercial property restoration can allow property owners to get back their peace of mind.
Reasons SERVPRO Provides the Best Service for Property Restoration
SERVPRO Moves Quickly in an Emergency
Property owners can mitigate the damage to their property by getting fast help with emergency water restoration. SERVPRO provides 24/7 emergency service. As a locally owned and operated company, crews can get to a commercial or residential property in less time to start property damage restoration.
Access to Professional-Grade Restoration Equipment
Water restoration companies rely on specialized equipment to handle the damage left behind by floods, hurricanes, or plumbing disasters. SERVPRO maintains cutting-edge equipment designed to deal with residential and commercial water damage.
Handling water damage restoration in an emergency may require SERVPRO technicians to:
Board up or tarp windows or roofs to stop additional water from entering the property
Handling emergency water extraction using large pumps
Removing trees or other debris that fell on the structure
Taking care of these issues right away can limit the overall damage to your property.
Experience Handling Any Property Damage Emergency
Naturally, property owners want help from experts who understand exactly what they're doing after a property damage emergency. The crews at SERVPRO have the training and experience to handle flooding, fires, and mold.
Many fire restoration companies in Texas only take care of fire damage. The SERVPRO team understands that fires can also lead to water damage, especially from sprinkler systems. That's why SERVPRO technicians come equipped to handle water clean-up as well as smoke, ash, and soot removal.
Comprehensive Assistance with Clean-up
Removing water after a storm or toilet overflow can act as an initial solution. However, it's also important to focus on property clean-up in these situations. Allowing moisture to remain after a water damage emergency can increase the odds of mold growth.
Mold remediation companies can handle fungal outbreaks. SERVPRO works to dehumidify your property after a storm or flood, reducing the odds that mold grows in your home or business. Team members can also take care of mold removal for property owners that spot microbial growth.
Experience Handling Insurance Agents
Finally, SERVPRO goes above and behind when it comes to residential and commercial cleaning services. Team members can step in to provide property owners with advice about the best way to file an insurance claim.
Getting help handling insurance agents can help property owners mitigate the stress associated with recovering from a fire, natural disaster, or pipe burst.
Get Professional Help Following a Property Damage Emergency
Property owners in the Azle, TX area can get prompt assistance from the team at SERVPRO. They provide property damage restoration services after fires, floods, and other destructive events.
SERVPRO technicians draw on their experience and training to bring properties back to better than new condition. Crews have access to the resources and equipment required to extract water, remediate mold, and erase the smells of soot or smoke. Find out more by calling (817) 560-3086.