Create a Foolproof Home Fire Evacuation Plan With These Handy Tips From a Leading Fire Damage Restoration Service
11/22/2021 (Permalink)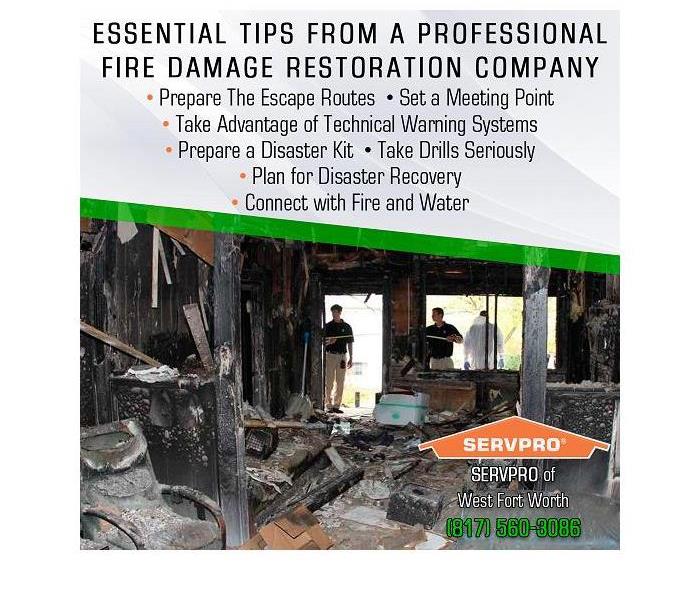 Blog Summary: Does everyone know what to do in the event of a fire at home or work? The fire damage restoration specialists at SERVPRO of West Fort Worth share tips for creating an effective fire evacuation plan that can keep everyone safe.
SERVPRO of West Fort Worth has dealt with all kinds of disasters, but fire damage restoration services continue to be in high demand for this area of Fort Worth, TX. The team restores West Fort Worth's homes and businesses to a pre-disaster state and offers a 24-hour emergency response to make it look "Like it never even happened."
Essential Tips From A Professional Fire Damage Restoration Company
Fort Worth has a great climate, but this dry and windy area of Texas is also a perfect conduit for fires. Professionals like SERVPRO of West Fort Worth see disasters happen daily, and a fire evacuation plan could make a world of difference.
#1 Prepare The Escape Routes
Fire evacuation preparation needs to ensure that a building has two or more exit options, known as paths of egress. These paths should be easy to find and well-equipped. For example, an escape from a fire often presents with poor visibility through smoke or power outages, so it is important to store egress assistance tools close to the pathway.
Multi-floor buildings should include well-maintained ladders and ropes in the egress tool kit.
#2 Set a Meeting Point
As one of the leading fire and water damage restoration services in the area, SERVPRO of West Fort Worth also recommends two meetup locations:
a close primary meeting point,
a second location further away in case the first is inaccessible or dangerous.
Emergency services can then account for all residents or employees in a matter of minutes while the soot and water cleanup begins.
#3 Take Advantage of Technical Warning Systems
Fire damage restoration teams see many disasters emerging in homes and businesses that fail to maintain fire detectors, fire extinguishers, and sprinkler systems. It is essential to maintain these systems and keep everyone on the property safe.
#4 Prepare a Disaster Kit
Fires sever communication channels and cause injuries. Plan for these contingencies with a kit that includes:
Spare cellphones
Mobile chargers
Flashlights
First aid materials
Canned food
#5 Take Drills Seriously
Residents and employees should be fully aware of the evacuation plan. Perform evacuation drills regularly, including training pets to follow exit commands and ensuring children know how to evacuate without adult assistance.
#6 Plan for Disaster Recovery
After an evacuation, fire damage restoration returns the building to its previous state. Texas locals often express surprise around the heat and smoke damage after a fire. There is also extensive water damage from the sprinklers and fire hoses.
A thorough cleanup is essential to a successful fire damage restoration project, and fire restoration companies like SERVPRO of West Fort Worth work as quickly as possible. Residential and commercial cleaning service callouts need urgent attention—even a few hours of standing water can require costly mold removal services later.
#7 Connect with Fire and Water Restoration Companies Immediately
The final tip is to act quickly; call a fire damage restoration service for assistance immediately after a disaster. The simplest route is to find a multi-service restoration team like SERVPRO of West Fort Worth. Waiting complicates the recovery, including having to summon mold remediation companies a few weeks after the fire.
SERVPRO has operated as a disaster restoration service since 1967, and the Fort Worth team specializes in:
fire restoration
mold removal and remediation
residential and commercial water damage restoration
Contact SERVPRO of West Fort Worth at 817-560-3086 today or visit the experienced fire damage restoration team at 8088 Camp Bowie W Blvd STE #106, Fort Worth, Texas, 76116.