SERVPRO: Fire Safety Tips for Educational Institutes
7/15/2021 (Permalink)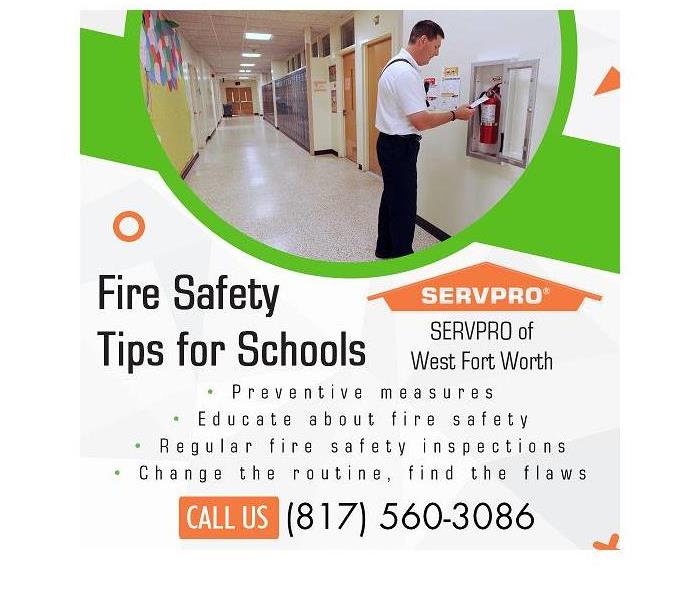 Blog summary: This SERVPRO article lists the usual causes of fires at educational institutes and how the management can take certain measures to protect staff and students from fires.
Why fires occur at educational institutes and how to prevent them
Fires at educational institutes can be catastrophic. To protect young lives and the staff, the institute management must follow several measures to prevent these incidents. SERVPRO shares the usual causes of fires at schools and some tips to protect the school and its people from fire damage.
The usual suspects, statistically
According to the National Fire Protection Association (NFPA), structure fires in schools in 2013-2017 caused $42 million in direct property damage.
37% were started intentionally
24% were due to playing with a heat source
20% began in a kitchen or cooking area
12% were due to heating equipment
NFPA also stated that structure fires in dormitories, fraternities, sororities, and barracks. cost $14 million in direct property damage in the same time period.
87% began in a kitchen or cooking area
5% were started intentionally
3% were due to smoking
2% were due to heating equipment
2% were due to electrical faults
Fire safety tips for schools
Preventive measures
Establishing school, daycare, or church school safety procedures is vital to keeping a school safe from fires.
Fire-resistant landscaping: Planting shrubs and water-resistant trees can help prevent fires from spreading. Fire-resistant trees can be planted at least 30 feet away from the school and at least 10 feet apart from one another. Additionally, keep the shrubbery and trees trimmed for unobstructed movement.
Gadgets: Installing motion sensor exterior lighting or lighting on timers as well as alarms on doors, windows, roof hatches, and ventilator openings is very helpful.
Fire-proof the trash: Place trash bins far away from the building and install metal lids that can be locked to prevent intruders.
Educate about fire safety
Educating the staff and students about fire safety is the first step towards prevention.
Fire drills: Conduct expected and unexpected monthly school fire drills in which everyone participates.
Handy maps: Give an emergency exit map to each classroom and label all of the exits and paths to safety.
Response training: Train students on how to respond to a fire alarm during a school fire drill.
Accessible fire safety equipment: Know the locations of the fire protection system, fire alarm pull stations, and sprinklers.
Buddy system: Creating a buddy system, especially for students with specific needs, is a way to ensure that every child is taken care of.
Safe zone: Create a safe zone that students identify and can meet once they exit the building. This safe zone can be reiterated during fire drills.
Right count: Have a roster at hand to ensure every student is accounted for.
Regular fire safety inspections
Just establishing a curriculum for fire safety education isn't enough. The management must invest in constant review of the school, daycare, or church facilities to ensure there are no unpleasant surprises when there is actually a fire event.
As a part of the routine, authorities can include the following:
Audit the facility: Conducting a facility audit, especially for older buildings, is crucial to ensure all equipment and structure are well-maintained and do not pose a fire threat.
Unblock: Ensure all doorways, stairways, windows, and emergency exits remain unblocked at all times.
Maintenance: Inspect kitchen equipment and appliances to make sure they're up to date and functioning properly.
Check the fire prevention gadgets: Inspect the sprinkler system across the facility to ensure it is functioning properly. Special sprinkler systems and decontamination showers in all science labs are a wise investment. Maintain the fire extinguishers and/or hoses. Ensure that there are enough pieces of extinguishers across the facility.
Change the routine, find the flaws
Holding unscheduled fire drills, at different times of day and under different conditions, bring forth any problems with the fire safety plan. When staff and students undergo fire safety drills at unusual and unexpected times, hidden problems may surface. This allows timely redressal and avoids any unexpected protocol failure in real-time.
Why SERVPRO?
# SERVPRO uses state-of-the-art equipment to bring the damaged property back to its original state. SERVPRO of West Fort Worth is always updating its fleet and equipment so clients in West Fort Worth, Benbrook, Azle, or anywhere else can quickly access the services.
# With over 1,700 US and Canadian Franchise locations, SERVPRO is strategically positioned to respond faster to an emergency of any magnitude.
# The SERVPRO staff is highly trained in property damage restoration. They receive initial in-house training and constant skill up-gradation at the corporate training facility and also acquire the regular IICRC-industry certification.
For fire damage restoration services, call SERVPRO of West Fort Worth today at (817) 560-3086 or e-mail at office@SERVPROheb.com