SERVPRO: How to maintain carpets in a restaurant?
8/20/2021 (Permalink)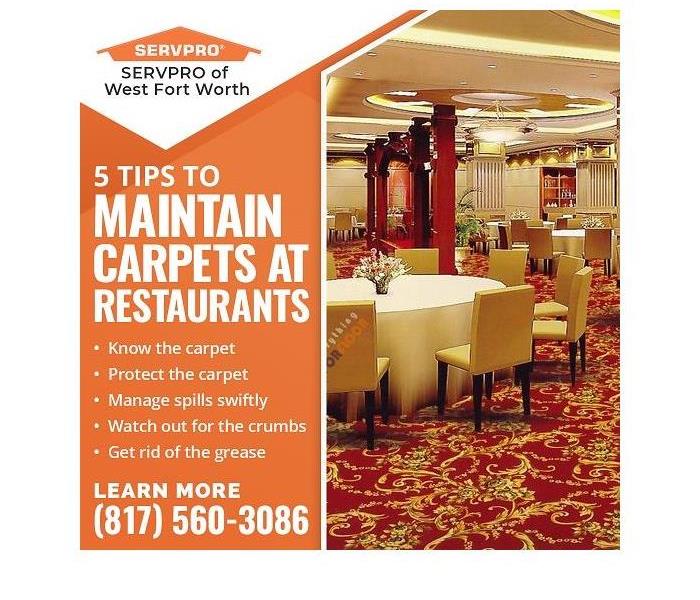 Blog summary: The SERVPRO technicians discuss several tips to prolong the life of carpets in restaurants.
5 tips to maintain carpets at restaurants
Carpets give restaurants a welcoming and warm appeal. Clients visit restaurants not just for their food but also due to their trust in the hygiene and cleanliness practiced by the restaurant. However, when carpet hygiene is neglected, they can become an eyesore and a breeding ground for germs and allergies. This can break the trust of even the most regular clients. SERVPRO, a commercial cleaning service, shares some tips to help restaurant owners clean and maintain their carpets.
5 carpet maintenance tips
Know the carpet
Carpets are made of a variety of materials that have specific cleaning and care needs. Knowing the carpet is the first step to taking care of it. When choosing a carpet, it makes sense to consider the following:
A carpet with a short pile that has been treated with a stain preventative. Long-haired carpets are harder to clean.
A carpet that contains a UV protectant in case the carpet is exposed to a lot of sunlight.
Nylon is always a good option because it's easy to clean.
Dense material with a lot of fibers holds up better to foot traffic.
A patterned fabric hides stubborn stains.
Protect the carpet
The dirt from outside and the grease from the kitchens must be prevented from being stamped on the carpet. It is advised to install rubber-backed mats around entry doors, food prep stations, and areas with a high risk of spills or excessive foot traffic. The soil from outside not only stains the carpets but the sharp-edged stones can damage the carpet fibers as well, causing premature wear and tear.
Manage spills swiftly
Cleaning a spill quickly reduces the risk of stains and smells. Any solid material must be removed immediately and the moisture must be blotted, not scrubbed.
In the case of a stain, applying an enzyme-based cleaning product breaks down the organic material for easier removal. This cleaner can be left overnight to soak in and then rinsed with water and a soft cloth in the morning.
Steam cleaning all areas where spills occur ensures no food particle is left behind. An anti-bacterial cleaner is another option for carpet cleaning.
Watch out for the crumbs
Small food crumbs must not be taken lightly as they are a magnet for mildew and pests. Failure to remove crumbs or any dirt and sand daily can cause the carpet to rot and smell. Vacuuming the entire carpet at the end of every day is a good practice.
Get rid of the grease
By the virtue of being in the vicinity of a kitchen, grease in the air will inevitably settle on the carpet fabric, despite all the precautions. As it gradually builds up, the grease will leave a sticky residue that will in turn attract dust, pollen, and other debris. The consequent odor and stains become stubborn to remove. A basic cleaning tool or product won't help.
A deep-cleaning service is the only answer. Not every restaurant would have access to this equipment or have the know-how to handle them. A commercial carpet cleaning service such as SERVPRO can help remove these long-standing stains and odors.
Why SERVPRO?
# SERVPRO uses state-of-the-art equipment to bring the damaged property back to its original state. SERVPRO of West Fort Worth is always updating its fleet and equipment so clients in West Fort Worth, Benbrook, Azle, or anywhere else can quickly access the services.
# With over 1,700 US and Canadian Franchise locations, SERVPRO is strategically positioned to respond faster to an emergency of any magnitude.
# The SERVPRO staff is highly trained in property damage restoration. They receive initial in-house training and constant skill up-gradation at the corporate training facility and also acquire the regular IICRC-industry certification.
For commercial cleaning services, call SERVPRO of West Fort Worth today at (817) 560-3086 or e-mail at office@SERVPROheb.com