Three Tips on Choosing the Best Provider for Water Damage Restoration
7/17/2022 (Permalink)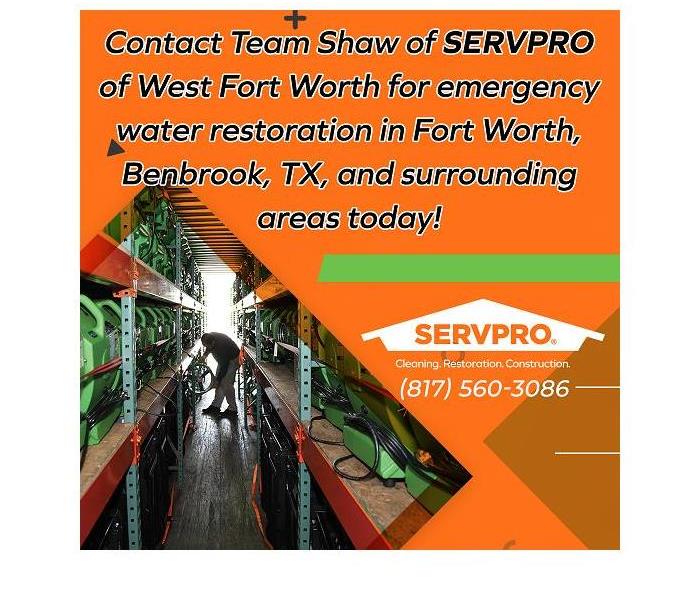 Blog Summary: SERVPRO of West Fort Worth discusses why water damage restoration is necessary for residents and three ways to tell which of the many water and mold remediation companies are trustworthy. That includes ensuring they have a license and insurance, are always available, and can handle any restoration job.
Tips for Choosing the Best Provider for Water Damage Restoration
Rapid frontal-type storms and constant flash floods in West Fort Worth leave residents with little to no warning of the impending residential and commercial water damage. From watermarks on walls and rotting expensive wood furniture to the loss of essential papers and memorabilia, water damage affects every inch of a home or business owner's property.
Emergency Water Restoration and Water Cleanup
Returning the property to a pre-damaged state is easy with a professional team that performs an emergency water restoration and water cleanup within 48 hours of initial damage. SERVPRO of West Fort Worth acts immediately with 24-hour emergency services that allow locals to reach a trusted technician any time of the day or night.
When browsing water restoration companies in Fort Worth, TX, residents should choose one that not only picks up on the first call but schedules them for immediate damage relief rather than placing them on hold for days. That's because water damage worsens with time, leading to foul smells alongside mold and mildew growth on an individual's house structure and precious items.
Mold Removal and Water Damage Restoration of All Kinds
Providing 24/7 assistance is not enough if a water damage restoration company doesn't deliver a full spectrum of services to assist a wider range of concerns. While most water damage restoration companies aid with flood water and mold removal, a well-rounded provider has experience with:
Sewer backups: Backups force wastewater up the main drain line, containing waste and other toxic material that overflows, requiring a professional to clear the line, dry the area, and install a backflow valve.
Groundwater: A cracked foundation allows moisture from the soil around the structure into the basement. A professional may install a sump pump or weeping tiles, but larger projects require a structural assessment.
Rooftop leaks: Lashing snow and rain heavily affect rooftops. A technician removes mold and mildew from the roof frame and replaces broken or rotten shingles.
Appliance leaks: From laundry and dishwashers to ACs and furnaces, appliance leaks cause flooding. This clean water is minor level-one damage but requires immediate repairs.
Licensed and Insured Water Restoration Companies
Residents should ensure they're not hiring an inexperienced contractor by asking for licenses and certifications. These show professionalism and expertise that won't leave residents with shoddy work that the company refuses to remedy. Insured contractors also protect residents from lawsuits in case of an accident on their property.
Licenses mean ongoing training, proving that the qualified technicians are constantly enhancing their knowledge on new repair techniques and state-of-the-art equipment.
SERVPRO, a Five-Star Locally Owned Residential and Commercial Cleaning Service
Water and fire restoration companies are essential to a healthy community. At SERVPRO of West Fort Worth, Texas' quality residential and commercial cleaning service, the certified and experienced technicians specialize in water, fire, biohazard, and mold cleanup. They handle disasters of all sizes and provide five-star services to Fort Worth, Lakeside, and surrounding areas.
Contact Team Shaw of SERVPRO of West Fort Worth at (817)-560-3086 for water damage restoration that makes it look "Like it never even happened."